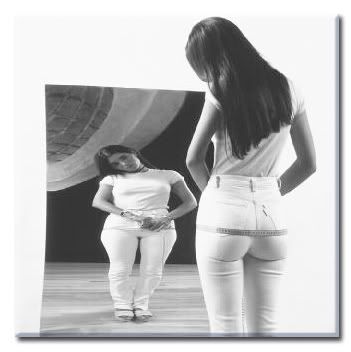 copyright © 2006 Betsy L. Angert
Today, I read "Vegetables of Mass Destruction – Obesity Redux" by OrangeClouds115. The author wrote of food and how it affects us. S/he spoke of obesity and whether this nation's current crisis is due to genetics or is a result of marketing, manufacturing, or the manner in which the medical profession works with those afflicted. This article offered an excellent assessment of a very sad situation.
As did many, I commented in a place or two. Then I stumbled on an observation by Rees Chapman. This person's remarks hit me where I lived, not in the Zone© by Dr. Barry Sears, as the writer mentioned, but in the zone. My zone encompasses years of struggle, and an ultimate realization, a resolution. Mine was not one of those you make on New Year's Day; nor was it one that was left my the wayside.
My resolve lingered; I think it will last for a lifetime. Actually, I know it will. In truth, I did not consciously choose to change the way I interacted with food; I did not think I could. I committed to nothing, I only thought about it, as did Chapman.
I wondered, how does the body store fat, react to self-imposed famine, and by extension to feasts. I pondered this for years. I took steps to heed my own warnings. Still, while seeking success with food, I found none. Instead, I continued to find solace in my habit, eating. Nevertheless, when I read the remarks of Rees, I related. The themes took me back.
They resonated deep within my psyche. Apparently, Rees Chapman is a Licensed Clinical Psychologist. One might think it logical; the words of this professional would reverberate within me. However, in truth, it was not what this writer said that stimulated this sharing; it was where the words took me. After reading, I reflected. I decided to write this exposé.
In my own battle with bulge, bulk, and bulimia, traditional therapy did not reap the results I craved. Treatment did not curb my cycle; though it did form a foundation that was favorable, not with food, but with me, myself, and I.
OrangeClouds115 wrote of the empathy she feels for those that watch their weight and explained that she cannot pretend to understand what it is like for those that do; however, I can. I have been overweight, fat, and obese. I have seen super skinny, slim, and slender. My body has experienced zaftig, buff, and built. All of these have been my reality over the years of my life. I yo-yoed, was stable, and still I was not satisfied.
I dieted; and I did not. Anorexia was my companion; eventually bulimia became my friend. We were best buds for a very long time. I was obsessed, and yet; I wanted none of it. Finally, my feeling was, this is my life. I resigned myself to what I do not seem able to control, my eating.
In the last year or more, I wrote of this, six times thus far. I offer these links. Interestingly, until moments ago, I did as bulimics do; I hid the truth. While my words are out there on the Internet for the world to see, until moments ago, I never included a category called "Bulimia" on my site. Today, with thanks to OrangeClouds115 and her stimulating essay, that changed.
Bulimia. Wait! It is Not My Weight © [Chapter Six]
On Be-Think, I wrote of food and all its follies, for I had experienced them first hand. Since I am no longer consumed with my own consumption, I have time to notice what others think, say, do, feel and how they interact with their victuals. In my earlier writings, I referenced an article on the affects of "Food on the Brain," By Daniel Fisher, Forbes. January 10, 2005.
This research piece offered an interesting perspective. The affects of sugar and trans fatty acids can be as powerful and problematic as alcohol. I never drank alcohol, not at any age and I was and am thankful for that. Could you imagine where a choice such as that might have taken me? I binged and purged on food, endlessly, for hours each day. If indulged in wine or whiskey as I did with food, what would have become of me?
A human can forego alcohol; however, food bears a different fascination. We cannot go without sustenance. I had to eat to survive and contrary to what some expert espouse, I had no desire to die. Repeatedly, I wondered, "What am I to do?" I was so entrenched in my habits. I recognized the attraction was not purely physical, it was psychological. Actually, that is what conventional science wants us to believe and I did, for a time, or tried to. I was like many preoccupied with food, I tasted the basic ingredients, and I ignored the recipe.
Thinking that the chefs or the clinicians knew what was wrong and what would help, I tried therapy. I sought out the best of physicians, psychologists, and psychiatrists. Medication was prescribed; however, it might as well have been a placebo. The cost of the drug was far greater than the rewards. The expense was huge; the benefits were nil.
Attempts were made to curb my habit. I tried, and tried, and cried in vain. Interventions were attempted. Tough love had its limits; behavior modifications had more. Classic caring was helpful; however, it too was not the cure.
As others do, I blame the food and beverage industries for much of this predicament. I find the practices of the Food and Drug Administration deplorable. I believe fast food corporations think more of capitalism than they do of health, food, or services. Diet book publishers clearly want their pound of flesh. Archer Daniels Midland the creator and among the many manufacturers of "high fructose corn syrup" must look at their role in America's weight gain. Nonetheless, I think these are not fully responsible for our obesity epidemic.
Yes, there are the schools, the parents, and a term I disdain, "personal accountability" to consider. Still, for me, these too only hint at what is the deeper problem. There is the media, the message, and the masses. We all want to mirror what society teaches us is ideal. However, I think there is more.
The physical, the psychological, the physiological, the neurological, chemical reactions, and sociological factors all play a role. As I read most of the comments posed at Vegetables of Mass Destruction – Obesity Redux, I was overwhelmed. Many mirrored a philosophy that permeates society, people want short-termed solutions.
Some asked for recipes, others offered anecdotes. Numerous persons sought solace at Weight Watchers; all were consumed with weight or the longing for less of it.
As a former anorexic and bulimic, I was told I was too. I was not. I understand how on the surface it seems that way; it looked as though I wanted to be thin and would do anything to achieve that goal. Nevertheless, I experience that weight was not my "issue." I wish it were that simple; I wish that anything were. However, for me, the problem of obesity is not a weight issue, though it is weighty. I think it is a question of balance.
In this treatise, I will share some personal stories, I will, as I do, reference many articles. However, on a subject such as this I think personal ponderings may be more meaningful.
I will share my supposition before I plunge into the history of purging. I have concluded that life is complex. Eating habits are learned. functions in our families teach us. Some may surmise it is the dysfunctions; however, I agree with Joe Ancis, The only normal people are the ones you don't know very well." Therefore, no matter what your family history, it informs your life. What your folks eat, cook, gobble, and crave helps you to form habits.
These can be good and, or they can be deadly. Society also leaves its trail. Magazines, television, the Internet, and books help to mold "who" we are and who we will become. The library within our homes is a fertile stomping ground.
Our relationship with siblings can offer signals to the future. Our connection to love and loved ones will influence our "destiny." In my family, food was a celebration of life; it was never mere nourishment. When we were happy we ate. When we were sad, we nibbled. If we felt lonely, food was a friend. If others were about, we gorged together. Food was there through the good times and the bad. Our cuisine was our comfort.
Though my grandfather was a chemist and very interested in physiological reactions, he too was human. He ate his flax seed and drank his Manhattans. Life in my birth home was inconsistent, as far as food was concerned.
My Mom was a gourmet cook and enjoyed cooking and baking more than many people do. We would dine on such savory dishes; however, that was on special occasions. Normally, life at the dinner table was erratic. My father ate large steaks; they more than filled the plate. I noticed this because I thought it disgusting. I often begged for Chicken Pot Pie, Swanson's?¢. I have no idea what my mother or sisters ate. I was too focused on my own plate.
During those years, beginning when I was two years of age, I used to sit in the den, and draw on my legs, where I wanted the flesh cut. I thought I was fat. Perhaps, having two older sisters influenced my body image. Possibly, not. when I was two, my sisters were seven and nine years old. Maybe the media was to blame.
Even then, I knew that if I lost that weight, I would still be dissatisfied. I wanted a skeletal transplant, muscles included. When I looked at the form of my bones and tissue I was displeased. They were never right.
Years later, my Mom remarried. My Dad entered the scene and eating habits changed dramatically. This was a shock to my system; however, I adjusted. Now we were a family of connoisseurs. My Mom had a calendar hanging in the kitchen. At the beginning of the month, she would fill in the boxes for all thirty or thirty-one days. She would describe our meals. On Monday the 1st we might eat a Russian meal, on Tuesday, if could be Italian. Wednesday dinner she made a recipe from Germany; Thursday we ate Thai. On Friday, she felt a need to make an Indian meal and on Saturday or Sunday, well, one never knew.
We all ate together, we chatted intensely, and the fun filled the room, most of the time. I hated tomatoes and my Mom grew these each year. She counted each one she picked. She kept track of these gems. There were thousands, every years there were thousands. My Dad insisted I eat these. I rebelled. Often, I ran away from home. I refused to eat those tomatoes.
I, as you, can go on about the food, the fabulous entrees, and the family events that surround these. However, I will stop here and ask you this. Is it what you eat that is the problem or is the reason you indulge playing a part in your weight?
For me, I ate well and I did not. My feelings often governed my choices. The amount I ate was rarely tied to hunger. Actually, until I stopped eating all packaged food I never really knew what hunger was.
I was exposed to very different diets and patterns that bore no similarities. What was the same was "I." My life was in balance and out of sorts. My food choices and the quantities I ate were as well. Though I long prided myself on coming from a family that was consistent, at least after the second marriage, what was said was done, my habits were inconsistent with my beliefs.
I believe in the importance of balance and in many parts of my life, I appeared stable and steady. Surprisingly, I later discovered, few knew. However, what was inside was not always reflected on the outside or in my choices.
In both family circumstances, I had developed a love of sugar, trans-fatty acids, grains, and caffeine. Whether I ate what is classically considered healthy or not, these were my staples. I trust they would have been had I not chosen bulimia. Fortunately, for me, my "condition" was so painful. I decided to do research. I read, and read, and read. I listened. I talked. I had a Grandfather that knew chemistry. He put me on a regime of vitamins and minerals, anything to preserve my health.
I found friends in my doctors and they trusted my intelligence more than I. They did what they could to compensate for my purging and knew that I would do more. I chose to consider the cellular reactions. I heard Nicholas Perricone and he reminded me of my Grandpop. He spoke chemistry. While I was unwilling to eat the wild salmon that he spoke of, since I have been a vegetarian since the age of sixteen, I was willing to make greater changes.
After years of slow and subtle progressions, after doing a balancing act for so long, after adopting habits that might override my truer patterns, I changed. Ultimately, my compensation became my routine.
What I am saying to you is this. No one can do it for you. Food is only an aspect of what ails you. You can read diets, copy recipes, blame the industries, or your ancestors. Still, what will work for you, must be of your doing. No one else's solution will bring you happiness.
Attend to the details. Study the Glycemic index. Eat what "feels good" to your body. Experiment. You might try eliminating certain foods and notice how your body reacts. Tailor a plan that suits your needs. You might be surprised. The foods I was most enamored with and never thought I would leave behind, no longer interest me. They have not for years!
I do not salivate at the sight of any of the things I once inhaled. I am not "white-knuckling" my routine. I never crave candy, cookies, caffeine, or other "sinful" combinations. I do not feel a need to turn to food for fulfillment, excitement, or joy. Eating is still a thrill; yet, different. I wish I could begin to describe what I now experience every minute. Actually, I will.
I eat and enjoy. It is not food that gratifies me; it is that I, as I whole, am happy with me. I relish the food for the health it gives me; I love the way it tastes. Food is not used to satiate my soul. it provides balance. A healthy body breeds a healthy heart and mind. A healthy heart and mind begets a healthy body.
For me, once I stopped eating any food that was pre-packaged, everything changed. I could eat unbelievable quantities with no worry. Food tasted so amazing. Weight was not a worry. I realized I had never really known hunger before. When people would say, "Eat when you are hungry," I had no idea what they really meant. I just ate.
There were meal times. People prepared for these, spoke of these, spent hours engaging in these. Food is ubiquitous, look around. For years, I did not shop in a typical grocery store; I did not need to. There was a small market that sold fresh fruits and vegetables daily where I lived. Now, I live elsewhere and need to go into conventional grocery stores. I am flabbergasted. Eliminate the aisles of frozen, boxed, bottled, or canned food and see what is left, little.
As I often say, we learn habits when we are very, very young before we realize there are other options. If you worry about obesity, consider alternatives. You need not do what others are doing. Be you; seek balance, emotionally, physically, intellectually, and spiritually. It might work wonders.
A Few of The Zillions of References I might offer. Please, Indulge and Enjoy.
UPDATE: What we risk for taste: Trans fats make fast foods delicious but dangerous, By John Fauber. Knight Ridder Tribune May 15, 2006
It's your health, By Helen Bishop MacDonald. Chatelaine. June 2006
Food on the Brain, By Daniel Fisher. Forbes. January 10, 2005
Grassley renews calls for FDA reform, By Steve Mitchell. ScienceDaily November 18
Obesity: Should Food Industry Be Blamed? By Marc Morano. CNSNews.com February 26, 2002
The health effects of drinking soda – quotes from the experts, By Mike Adams. NewsTarget Network. January 08, 2005
Fast Food Nation. NewsHour. April 4, 2001
The dangers of female athleticism, By Sarah Karnasiewicz Salon.com
Childhood Obesity. Adult On-Set Diabetes. Osteoporosis. Soda Betsy L. Angert. Be-Think
Fast Food is Not Fast, Betsy L. Angert. Be-Think
EAFUS: A Food Additive Database U. S. Food and Drug Administration. Center for Food Safety & Applied Nutrition. May 8, 2006
Food Additives and Preservatives
Megaheart.com
Sweet but Not So Innocent? High-Fructose Corn Syrup May Act More Like Fat Than Sugar in the Body, By Sally Squires. Washington Post. Tuesday, March 11, 2003
Farming Is Falling, Effecting Our Food and Families By Betsy L. Angert. Be-Think
Glycemic Index – A new way of looking at carbs Canadian Diabetes Association. Revised June 2005
Bulimia Nervosa
Internet Mental Health
The Official Website of the Glycemic Index and GI Database
The University of Sydney
How can America end its obesity epidemic?
Time Magazine
Fast Food, Fat Children CBS News. April 21, 2001
Overweight children and obese adults remain a major public health concern News-Medical.Net. Tuesday, 15-Jun-2004
Are you supersizing yourself with fast food? By Karen Collins, R.D., MSNBC. January 12, 2006
Balancing Body Chemistry, By Dr H K Bakhru. PharmaBiz.com. Saturday, October 14, 2000
How To Use Fruits and Vegetables To Manage Your Weight Department of Health and Human Services Centers for Disease Control and Prevention
International Background on Food Ingredients Food Information Council. May 2004

Please peruse Chapters One through Six, if you choose.