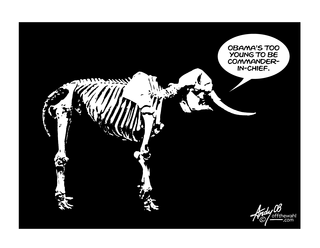 To view the original art, please travel to GOP spin sounding tired already
copyright © 2007. Andrew Wahl. Off The Wahl Perspective.
[Posted 02/19/08]
With the Republican nomination all but wrapped up, John McCain used his TV time following the latest primaries to try out attack lines on Barack Obama. Somehow, I don't think "The GOP's Best Argument" is going to hold up against Obama's youth-driven change tsunami. But November is a long way off, and Obama still has work to do in the Democratic primaries before he can worry too much about McCain.