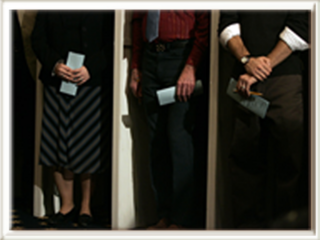 copyright © 2007 Betsy L. Angert
"The dog ate my homework," said young Jonathan. In those tender years, he hoped an authority figure would trust the statement to be true. As an adult, Jonathan grumbled in frustration, "The computer ate my vote." The concerned citizen wanted to hear no excuses. Just as he knew the sweet little pup on his lap never digested the paper he did not write, Jon understood; the central processing system did not devour the votes. Constituent choices were not read or recorded accurately.
In January 2008, Jonathon, a New Hampshire resident, cast his ballot for Barack Obama, as did his wife, and their adult children. When asked by exit pollsters, Jon's parents proudly proclaimed, "We each voted for Obama." Neighbors on either side were loyal to Edwards. Colleagues were mixed. Dennis Kucinich was a favorite for Julie, Helene, and Amy. The three were outspoken in their support. While sentiments were mixed, very few supported the former First Lady, Senator Clinton. As Jonathon assessed all he heard and read he believed as the pundits predicted, Obama would Win by 18-20%. However, that is not what happened.
Post Primary Election Day the results in New Hampshire are being questioned. By an overwhelming majority Barack Obama was expected to triumph. Clinton would not see her presumed coronation. People such as Jonathon and the pundits asked, "What happened?" Conspiracy theories abound. Americans are reminded, in the last three elections, a ballot cast through circuitry may not be a reliable tally.
Critics, cynics, those who rebuff the idea that any authoritarian agenda might have caused, or effected, the capricious vote count offer evidence that the current system is clean. Experts evaluate, it is not the method, but the map that produced the unexpected.


Preliminary analysis from Edison/Mitofsky, however, indicates that the difference between the two types of precincts goes back at least two elections. As Joe Lenski, executive vice president of Edison Media Research, wrote in an e-mail, "unless there has been hidden election fraud in New Hampshire for the last three presidential primaries the 'evidence' being used by these fraudsters probably does not hold up to any rigorous statistical analysis."

Moreover, attributing all the differences between these townships to their choice of vote-counting procedures misses other potentially important differences among voters (e.g., proportions independent, highly-educated).

Update: The table below has been updated to reflect new numbers from the Secretary of State.



Vote By Type of Equipment Used
Optical scanners
Paper ballots


2008 Clinton
40.09
33.74


2008 Obama
35.84
39.77


2008 Margin
Clinton +4.25
Obama +6.03


2004 Kerry
39.52
32.40


2004 Dean
24.74
34.43


2004 Margin
Kerry +14.78
Dean +2.03


2000 Gore
50.35
45.80


2000 Bradley
45.03
49.13


2000 Margin
Gore +5.31
Bradley +3.33





Reports that substantiate the validity of what is do nothing to diminish or dismiss the underlying veracity of what might also be true. There are plenty of questions and the rate of replies grows exponentially. An analysis begs speculation. Might the optical scanners appear in affluent areas. In these communities, people may be less dependent on landlines, and more tied to a cellular telephones. Possibly conventional means for vote computation occurs in neighborhoods where people are home and accessible to canvassers. It might be that those polled did endorse Obama in greater numbers. However, even if this theory is accurate, it does not explain the vastness of the gap.
Jonathon muses, "No one polled me." His mother and father were not reached. Edwards supporters in his neighborhood were not contacted. Julie, an activist, yearned to offer her opinion to a campaign researcher She waited for a call. None came. Granitite State local Helene wanted nothing more than to declare her support for Dennis Kucinich. This lovely lady in the "Live Free or Die" state had much to declare. She and her friend Amy welcomed a call from a pollster. Indeed, when each was presented with a list of candidates and then asked whom they might vote for, Helene and Amy inquired, "Why was Dennis Kucinich not included in the rooster?" Many ruminate, the survey amongst voters might reflect more than a margin of error. Andrew Kohut, President, of the Pew Research Center argues the polls were perfect. The reviewers are "Getting It Wrong."


The failure of the New Hampshire pre-election surveys to mirror the outcome of the Democratic race is one of the most significant miscues in modern polling history. All the published polls, including those that surveyed through Monday, had Senator Barack Obama comfortably ahead with an average margin of more than 8 percent. These same polls showed no signs that Senator Hillary Clinton might close that gap, let alone win.

While it will take time for those who conducted the New Hampshire tracking polls to undertake rigorous analyses of their surveys, a number of things are immediately apparent.

First, the problem was not a general failure of polling methodology . . .

Second, the inaccuracies don't seem related to the subtleties of polling methods . . .

Third, the mistakes were not the result of a last-minute trend going Mrs. Clinton's way . . .

Fourth, some have argued that the unusually high turnout may have caused a problem for the pollsters . . .

To my mind, all these factors deserve further study. But another possible explanation cannot be ignored – the longstanding pattern of pre-election polls overstating support for black candidates among white voters, particularly white voters who are poor.
For Andrew Kohut, a man who makes a career of research, those who conduct polls, and calculate statistical information gathered, are not to blame for discrepancies. The data is flawless. The people who respond to a survey are the problem. Kohut claims humans lie to hide their bigotry. The rift is realized in race relations.
That conclusion might be also be disputed. Indeed, we can hear the quarrel now Hillary Clinton, Barack Obama, and their respective spouses spew venom, as they discuss the role of Civil Rights Leader, Martin Luther King Junior America revisits the achievements of a peaceful African-American leader, and we discover perceptions differ.
Nonetheless, we cannot negate what has been an obvious concern long before this recent election, electronic elections are not fully certifiable. The process New Hampshire authorities adopted is arguably better than the techniques many other States use, still the optical scanners are a less than a secure system.
Perhaps, we must consider that charts and editorial information furnished, while interesting, do not lessen the need for our shared concern. For those that think there is a well-crafted campaign to conspire, we are likely to hear, "Hackers would not wish to leave an easily observable trail." For those who do not necessarily fear a plot to alter or obfuscate the results, there is a consensus humans are fallible. Programmers are not perfect. Nor are locks.


One brand of machine leads in market share by a sizable margin: the AccuVote, made by Diebold Election Systems. Two weeks ago, however, Diebold suffered one of the worst kinds of public embarrassment for a company that began in 1859 by making safes and vaults.

Edward W. Felten, a professor of computer science at Princeton, and his student collaborators conducted a demonstration with an AccuVote TS and noticed that the key to the machine's memory card slot appeared to be similar to one that a staff member had at home.

When he brought the key into the office and tried it, the door protecting the AccuVote's memory card slot swung open obligingly. Upon examination, the key turned out to be a standard industrial part used in simple locks for office furniture, computer cases, jukeboxes – and hotel minibars.

Once the memory card slot was accessible, how difficult would it be to introduce malicious software that could manipulate vote tallies? That is one of the questions that Professor Felten and two of his students, Ariel J. Feldman and J. Alex Halderman, have been investigating. In the face of Diebold's refusal to let scientists test the AccuVote, the Princeton team got its hands on a machine only with the help of a third party.

Even before the researchers had made the serendipitous discovery about the minibar key, they had released a devastating critique of the AccuVote's security. For computer scientists, they supplied a technical paper; for the general public, they prepared an accompanying video. Their short answer to the question of the practicality of vote theft with the AccuVote: easily accomplished.

The researchers demonstrated the machine's vulnerability to an attack by means of code that can be introduced with a memory card. The program they devised does not tamper with the voting process. The machine records each vote as it should, and makes a backup copy, too.

Every 15 seconds or so, however, the rogue program checks the internal vote tallies, then adds and subtracts votes, as needed, to reach programmed targets; it also makes identical changes in the backup file. The alterations cannot be detected later because the total number of votes perfectly matches the total number of voters. At the end of the election day, the rogue program erases itself, leaving no trace.
Computers, cared for, corrupted, and programmed by people, can be as a compulsively confounding as a poll worker. A central processing unit, by rote, will remove the excess waste as mindlessly as a human might endeavor to do. In days of old, poll-workers were the problem. A misplaced bag of ballots or a box filled to the brim with bogus paper ballots was the reason anxious Americans sought a better system. Mechanical means were thought to eliminate human error or manipulation.


Some elections officials next adopted lever machines, which record each vote mechanically. But lever machines have problems of their own, not least that they make meaningful recounts impossible because they do not preserve each individual vote. Beginning in the 1960s, they were widely replaced by punch-card systems, in which voters knock holes in ballots, and the ballots can be stored for a recount. Punch cards worked for decades without controversy.

Until, of course, the electoral fiasco of 2000. During the Florida recount in the Bush-Gore election, it became clear that punch cards had a potentially tragic flaw: "hanging chads." Thousands of voters failed to punch a hole clean through the ballot, turning the recount into a torturous argument over "voter intent." On top of that, many voters confused by the infamous "butterfly ballot" seem to have mistakenly picked the wrong candidate. Given Bush's microscopic margin of victory – he was ahead by only a few hundred votes statewide – the chads produced the brutal, month long legal brawl over how and whether the recounts should be conducted.

The 2000 election illustrated the cardinal rule of voting systems: if they produce ambiguous results, they are doomed to suspicion. The election is never settled in the mind of the public. To this date, many Gore supporters refuse to accept the legitimacy of George W. Bush's presidency; and by ultimately deciding the 2000 presidential election, the Supreme Court was pilloried for appearing overly partisan.
Partisan politics is perhaps the truer issue. Even those that do not ascribe to conspiracy theories, doubt their opponent. The "enemy" in an election may be the corporations, the rival candidate, the government, or anyone who might garner support in opposition to a particular voter. Jonathon marvels at the foes that lurk in the shadows. People he does not know and perchance, personally, never will, are those he does not trust.
In New Hampshire, the electorate attempted to approve the best of both worlds. Paper ballots are used in every precinct. Granted, all votes are cast on traceable tallies. However, recounts, such as the one now proposed by Presidential hopeful, Congressman Dennis Kucinich, may not be possible in the way a verification of the vote once was.
Consider the plight of Elections Director Jane Platten, in Cuyahoga County Ohio., At 3 in the morning on November 7, at the "end" of a twenty-two hour workday, the too-tired public service official said, "I guess we've seen how technology can affect an election." The electronic voting machines in Cleveland were once again a source of trouble, and the reason for more time spent on the job.
All went well for a while. Voter turnout was light on that fateful day. About 200,000 voters strode through the polls, tapped their choices onto the county's 5,729 touch-screen voting machines, and gladly turned in their electronic memory cards ready for the count. All security procedures were followed. Then the fun began.
Suddenly, at 10 Post Meridian the server froze, as did all operations. No votes could be counted. Technicians gathered. A young, and well-dressed employee from Diebold, the company that manufactures the equipment used in Cuyahoga elections , entered the scene; yet offered no solutions. No one could figure out what was wrong. Ultimately, the election workers did what people do. They cut the power. The hope was the machine would clear its "mind," rest a bit, return refreshed, and then begin the calculations anew.
This seemed to work, until the system crashed a again. Once more, the staff rebooted the computer and resumed the count. Gleefully, the computation was completed.


Worse was yet to come. When the votes were finally tallied the next day, 10 races were so close that they needed to be recounted. But when Platten went to retrieve paper copies of each vote – generated by the Diebold machines as they worked – she discovered that so many printers had jammed that 20 percent of the machines involved in the recounted races lacked paper copies of some of the votes. They weren't lost, technically speaking; Platten could hit "print" and a machine would generate a replacement copy. But she had no way of proving that these replacements were, indeed, what the voters had voted. She could only hope the machines had worked correctly


As demonstrated repeatedly, the readable receipt may have been altered. The tangible total may not be as accurate as presumed. Evidence of the discrepancies is everywhere.
The infamous Diebold [now Premier election solutions] optical scanner voting machine is used to tally fifty-eight [58] percent of the votes, or 175 of New Hampshire's 301 precincts ballots. The AccuVote optical scan machines were the only mechanisms independent-minded New Hampshire residents would accept. Nonetheless, even this apparatus is troublesome. Persons such as Jonathon, a man anxious for change, and committed to the democratic process of elections, has had many a sleepless night since realizing his vote may not count.
Jonathon, his wife, children, parents, friends, and neighbors may need to be contacted, to vote again if we are to establish how they voted. Even then, others would wonder; will the truth be told?
Jonathon understands as do many concerned citizens, the Diebold trail, regardless of how secure the equipment is advertised to be, can be diverted. Diebold itself has done much to redirect the flow of information.


On November 17th, 2005, an anonymous Wikipedia user deleted 15 paragraphs from an article on e-voting machine-vendor Diebold, excising an entire section critical of the company's machines. While anonymous, such changes typically leave behind digital fingerprints offering hints about the contributor, such as the location of the computer used to make the edits.

In this case, the changes came from an IP address reserved for the corporate offices of Diebold itself. And it is far from an isolated case. A new data-mining service launched Monday traces millions of Wikipedia entries to their corporate sources, and for the first time puts comprehensive data behind longstanding suspicions of manipulation, which until now have surfaced only piecemeal in investigations of specific allegations.
In spite of attempts to alter any information available on Diebold, the company continues to garner much attention. Each election cycle generates greater concerns than the one preceding it. The New Hampshire primaries are no exception.
This method is highly vulnerable to error and manipulation; although many may quibble the authenticity of this claim. Nonetheless, after much scrutiny and many experiments, the truth was told. Jonathon recalls the news report.


Election Whistle-Blower Stymied by Vendors

After Official's Criticism About Security, Three Firms Reject Bid for Voting Machines

By Peter Whoriskey?

Washington Post?

Sunday, March 26, 2006; A07

Miami — Among those who worry that hackers might sabotage election tallies, Ion Sancho is something of a hero.

The maverick elections supervisor in Leon County, Fla., last year helped show that electronic voting machines from one of the major manufacturers are vulnerable, according to experts, and would allow election workers to alter vote counts without detection.

Now, however, Sancho may be paying an unexpected price for his whistle-blowing: None of the state-approved companies here will sell him the voting machines the county needs.

"I've essentially embarrassed the current companies for the way they do business, and now I believe I'm being singled out for punishment by the vendors," he said.

There are three vendors approved to sell voting equipment in Florida, and each has indicated it cannot or will not fill Sancho's order for 160 voting machines for the disabled. Already, he has had to return a $564,000 federal grant to buy the machines because he has been unable to acquire the machines yet.

"I'm very troubled by this, to be honest — I can't believe the way he's being treated," said David Wagner, a computer scientist at the University of California at Berkeley who sits on a California board that reviews voting machine security. "What kind of message is this sending to elections supervisors?"

The trouble began last year when Sancho allowed a Finnish computer scientist to test Leon County's Diebold voting machines, a common type that uses an optical scanner to count votes from ballots that voters have marked. Diebold Election Systems is one of the largest voting machine companies in the United States.

While some tests showed that the system is resistant to outside attack, others showed that elections workers could alter the vote tallies by manipulating the removable memory cards in the voting machines, and do so without detection.

A Diebold spokesman scoffed at the results, and compared them to "leaving your car unlocked, with the windows down and keys left in the ignition and then acting surprised when your car is stolen."

State officials similarly played down the results.

But last month, California elections officials arranged for experts to perform a similar analysis of the Diebold machines and also found them vulnerable — noting a wider variety of flaws than Sancho's experts had. They characterized the vulnerabilities as "serious" but "fixable."

"What he [Sancho] discovered was — oops — that the conventional wisdom was all wrong," said Wagner, a member of the panel that reviewed the Diebold machines. "It was possible to subvert the memory card without detection."
Rather than take responsibility for a system gone bad, voting machine manufacturers would rather not sell to any Supervisor that might question the quality of the hardware or software. It seems obvious to all, regardless of the excuses, or rationalizations, no matter the method or the map, vote counts are always prone to error.
Thus, Jonathon wonders is his will stronger than the way of these machines and the persons who program them. The villainous touch-screen voting machines, were thought too problematic for New Hampshire voters. Jon, his friends Julie, Helene, and Amy were among the vocal residents who expressed a need for caution. However, these activists did not have the influence they hoped to have on official decisions.
In New Hampshire, as in much of the nation, technology was considered manifest destiny. Throughout the country, the use of electronics to tally ballots was employed at great expense. The cost in dollars can be overshadowed only by the lose of liberty. Countrywide, Americans ask . . .

Can You Count on Voting Machines? For Jane Platten, Head of Poll Worker Training and Voter Education Programs in Cuyahoga County, Ohio says, "No!"


In the lobby of Jane Plattten's office in Cleveland sits an AccuVote-TSX, made by Diebold. It is the machine that Cuyahoga County votes on, and it works like this: Inside each machine, there is a computer roughly as powerful and flexible as a modern hand-held organizer. It runs Windows CE as its operating system, and Diebold has installed its own specialized voting software to run on top of Windows. When the voters tap the screen to indicate their choices, the computer records each choice on a flash-memory card that fits in a slot on the machine, much as a flash card stores pictures on your digital camera.

At the end of the election night, these cards are taken to the county's election headquarters and tallied by the GEMS server. In case a memory card is accidentally lost or destroyed, the computer also stores each vote on a different chip inside the machine; election officials can open the voting machine and remove the chip in an emergency.

But there is also a third place the vote is recorded. Next to each machine's LCD screen, there is a printer much like one on a cash register. Each time a voter picks a candidate on screen, the printer types up the selections, in small, eight-point letters. Before the voter pushes "vote," she's supposed to peer down at the ribbon of paper – which sits beneath a layer of see-through plastic, to prevent tampering – and verify that the machine has, in fact, correctly recorded her choices. (She can't take the paper vote with her as proof; the spool of paper remains locked inside the machine until the end of the day.)

Under Ohio law, the paper copy is the voter's vote. The digital version is not. That's because the voter can see the paper vote and verify that it's correct, which she cannot do with the digital one. The digital records are, in essence, merely handy additional copies that allow the county to rapidly tally potentially a million votes in a single evening, whereas counting the paper ballots would take weeks. Theoretically speaking, the machine offers the best of all possible worlds. By using both paper and digital copies, the AccuVote promised Cuyahoga an election that would be speedy, reliable, and relatively inexpensive.

Little of this held true. When the machines were first used in Cuyahoga Country during the May 2006 primaries, costs ballooned – and chaos reigned. The poll workers, many senior citizens who had spent decades setting up low-tech punch-card systems, were baffled by the new computerized system and the rather poorly written manuals from Diebold and the county. "It was insane," one former poll worker told me. "A lot of people over the age of 60, trying to figure out these machines." Since the votes were ferried to the head office on small, pocketsize memory cards, it was easy for them to be misplaced, and dozens went missing.

On Election Day, poll workers complained that 143 machines were broken; dozens of other machines had printer jams or mysteriously powered down. More than 200 voter-card encoders – which create the cards that let voters vote – went missing. When the machines weren't malfunctioning, they produced errors at a stunning rate: one audit of the election discovered that in 72.5 percent of the audited machines, the paper trail did not match the digital tally on the memory cards.

This was hardly the first such incident involving touch-screen machines. So it came as little surprise that Diebold, a company once known primarily for making safes and A.T.M.'s, subsequently tried to sell off its voting-machine business and, failing to find a buyer, last August changed the name of the division to Premier Election Solutions (an analyst told American Banker that the voting machines were responsible for "5 percent of revenue and 100 percent of bad public relations").
Researchers at Princeton University are not surprised. A comprehensive study, Security Analysis of the Diebold AccuVote-TS Voting Machine, released in September 2006 revealed the hardware and software in question are not dependable.


Ed Felten [among the authors of the report] is a computer scientist at Princeton University, and he has become famous for analyzing – and criticizing – touch-screen machines. In fact, the first serious critics of the machines – beginning 10 years ago – were computer scientists. One might expect computer scientists to be fans of computer-based vote-counting devices, but it turns out that the more you know about computers, the more likely you are to be terrified that they're running elections.

This is because computer scientists understand, from hard experience, that complex software can't function perfectly all the time. It's the nature of the beast. Myriad things can go wrong. The software might have bugs – errors in the code made by tired or overworked programmers. Or voters could do something the machines don't expect, like touching the screen in two places at once. "Computers crash and we don't know why," Felten told me. "That's just a routine part of computers."
It is true. Each day, many compatriots swear at electronic gadgetry. Yet, as a nation, we spend millions in hopes that electronic equipment will work on Election Day. Americans rely on these erratic electronic marvels to calculate our votes. Citizens of this country count on defective Diebold voting machines to accurately compute what might be considered the most important decision, we, the people make. Faulty software and hardware determine who will represent our country, and us.
More than Jonathon has experienced a moment of frustration with a computer. Election Boards are familiar with the scenario.


One famous example is the "sliding finger bug" on the Diebold AccuVote-TSX, the machine used in Cuyahoga. In 2005, the state of California complained that the machines were crashing. In tests, Diebold determined that when voters tapped the final "cast vote" button, the machine would crash every few hundred ballots. They finally intuited the problem: their voting software runs on top of Windows CE, and if a voter accidentally dragged his finger downward while touching "cast vote" on the screen, Windows CE interpreted this as a "drag and drop" command. The programmers hadn't anticipated that Windows CE would do this, so they hadn't programmed a way for the machine to cope with it. The machine just crashed.

Even extremely careful programmers can accidentally create bugs like this. But critics also worry that touch-screen voting machines aren't designed very carefully at all. In the infrequent situations where computer scientists have gained access to the guts of a voting machine, they've found alarming design flaws.

In 2003, Diebold employees accidentally posted the AccuVote's source code on the Internet; scientists who analyzed it found that, among other things, a hacker could program a voter card to let him cast as many votes as he liked. Ed Felten's lab, while analyzing an anonymously donated AccuVote-TS (a different model from the one used in Cuyahoga County) in 2006, discovered that the machine did not "authenticate" software: it will run any code a hacker might surreptitiously install on an easily insertable flash-memory card.

After California's secretary of state hired computer scientists to review the state's machines last spring, they found that on one vote-tallying server, the default password was set to the name of the vendor – something laughably easy for a hacker to guess.

But the truth is that it's hard for computer scientists to figure out just how well or poorly the machines are made, because the vendors who make them keep the details of their manufacture tightly held. Like most software firms, they regard their "source code" – the computer programs that run on their machines – as a trade secret. The public is not allowed to see the code, so computer experts who wish to assess it for flaws and reliability can't get access to it. Felten and voter rights groups argue that this "black box" culture of secrecy is the biggest single problem with voting machines. Because the machines are not transparent, their reliability cannot be trusted.
For years, there has been much concern and more delay. In 2007, the Senate decided to hold hearings on the security of voting machine. Citizens who have long yearned for a viable paper trail inquire, why the wait. For too long, Americans have known when electronic voting machines record the votes, counts are frequently flawed. Nevertheless, we continue as we have.
Currently, in the United States, approximately eighty-seven [87] percent of the votes are frozen in computer chips. Elections remain entrusted to miniature wires, soldered into plastic boards, and so too is America's future. Adults in the United States are told to vote; our participation makes a difference. So, cast your ballot with confidence, and know that even if your vote is counted, it may not count.
Sources, Secret Codes, Software, and Scanners . . .