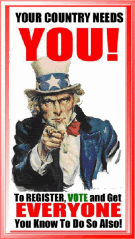 copyright © 2008 Betsy L. Angert
In this a Presidential election year, citizens of this country are intensely aware, every vote counts. The world witnessed, in State after State people scrambled to the polls. Voters of every age have turned out in large numbers. The sprint to the White House is on. Most every electorate wants to join in. the people wish to return to power. Much is at stake. The people want to participate in the process.
In America, in a democracy, government is defined as organization that operates of, by, and for the people. The people choose who will represent them in the Executive and Legislatives Branches. Executives appoint persons to occupy Judicial seats. Supreme Court Jurists may serve the public for a lifetime. Legislators also have infinite influence. Members of Congress make laws and approve nominees. Thus, those who speak and stand in for the common folk have much power.
Hence, it is essential, before the average Joe or Joanne casts a ballot they must be very well informed. When the American people vote they place their lives in the hands of a few. Access to the candidates is vital if people are to make an informed decision. During a Presidential election year, it is imperative that the people, one and all, be given an opportunity to meet and greet the hopefuls. A President of the United States is the single most important being on the globe. He or she is superior to all other officials who reside in this region. Since the United States is considered the world's only true Super Power, the President of this nation is virtually omnipotent, or at least some often act as though they are.
It is for this reason the electorate must choose wisely. Each adult needs to ponder, who is the person who will best represent my interest? Which Presidential hopeful will serve persons in every community equally? Who will work for the common good of the people and not for personal fame and fortune? There is much to research. Reflection needs to be deep and thoughtful. The public must ensure that a Presidential aspirant knows of and wishes to honor the desires of his or her constituents. However, this determination is difficult to make.
Most of the citizens in this country only see the hopefuls in well-crafted, scripted moments. Television and the Internet dominate the delivery of news about the candidates. Pew Research Center for the People and the Press reported.


The internet is living up to its potential as a major source for news about the presidential campaign. Nearly a quarter of Americans (24%) say they regularly learn something about the campaign from the internet, almost double the percentage from a comparable point in the 2004 campaign (13%). ?

Moreover, the internet has now become a leading source of campaign news for young people and the role of social networking sites such as MySpace and Facebook is a notable part of the story. Fully 42% of those ages 18 to 29 say they regularly learn about the campaign from the internet, the highest percentage for any news source. In January 2004, just 20% of young people said they routinely got campaign news from the internet.

[T]he proportion of Americans who rely on traditional news sources for information about the campaign has remained static or declined slightly since the last presidential campaign. . . .

By contrast, the proportion of Americans who say they regularly learn about the campaign from the internet has more than doubled since 2000 – from 9% to 24%.
While it may seem that mainstream media has less of an influence of the electorate; indeed, the reverse may be true. When we assess the sources of information accessed on the Internet we realize, corporate control still speaks volumes.


People who rely on the internet for campaign news turn to a wide array of websites. The most frequently mentioned online news outlets are MSNBC (at 26%), CNN (23%) and Yahoo News (22%).
Few constituents know more than the media allows. What the press makes available is extremely limited. Independent-minded persons believe they know more. Yet, these persons are also influenced. Chant as the indies might, the media is hostile to anti-establishment candidates, John Edwards, Ron Paul, and Mike Huckabee, the three barely-acceptable do appear on stage. Corporate controlled columnists recognize it is important to appear unbiased.
Americans must wonder of those whose exposure is eliminated. Perchance, constituents might consider the plight of Democratic candidate Dennis Kucinich. Presidential aspirant Kucinich was excluded from the American Association for Retired Persons [AARP] debate in the Hawkeye State. In Granite country, ABC News declared Dennis Kucinich would be barred from the dialogue. Silver State voters were not able to see the profound Presidential hopeful on stage. He was relegated to the streets allowed to speak only to the neon lights. The Palmetto State decreed, "Dennis, this is not your kingdom." Indeed, you are locked out in this land of liberty. Texas told its tall tale. Dennis Kucinich would not be the hero in the Lone Star State. Ultimately, the only Presidential hopeful who is a member of a Union, endorsed an authentic Universal Health Care program, a Single Payer, Not For Profit plan was forced to withdraw his name from the ballot. Perhaps the lack of press coverage played a role.
While Congressman and Presidential hopeful Dennis Kucinich was ahead in many Progressive surveys, among the general public the candidate remained an unknown. In August 2007, the aspirant was heard to say "Polls are a function of name recognition, not a function of whether people support your ideas. As people become aware of my candidacy, the evidence of that support is going to rise." Yet, sheltered from view few voters ever knew who Dennis Kucinich was or is. Fewer still know when or where they could cast a ballot.


Confused Florida voters try to cast ballots in Super Tuesday primaries

The problem? Florida had its presidential primary Last week.

Robert Perez

Orlando Sentinel

February 5, 2008

Millions of Americans in 24 states are turning out vote to in Super Tuesday presidential primaries from Georgia to Alaska today. Meanwhile, some dedicated if confused Florida voters are trying to, as well.??

Elections offices across the state are reporting hundreds of calls from voters wanting to know where they can vote today. The answer is that Florida already had its presidential primary — last week.??

"We've had over 100 calls at least over the last two days," said Kathy Adams, a spokesperson for the Palm Beach County Election Supervisor.??

Closer to home, Orange County elections officials say they are dealing with a combination of confused voters from Florida and California.??

"One of my staffers has figured it out," said Orange County Election Supervisor Bill Cowles. "They are California voters going online and looking for the Orange County [California] election office and calling us instead."

Of course that doesn't explain the man who showed up at a polling site this morning in Orlando wanting to vote, Cowles conceded.?
Nor does this story enlighten the electorate as to why, in this the Information Age, so little is known, or shared with expectant voters. If people do not know to ask, instructions are not given. Votes, as important as they are, in 2008, are not counted. In this the Twenty-First Century, not only is Florida a foible, California has come to encapsulate election fraud, folly, or failures.


Bubble, Bubble, Toil and Trouble.

By Steven Mikulan

LA Weekly

February 5, 2008 3:22 PM

Election cross-over dreams become a nightmare

Last Friday members of the nonpartisan election group, CourageCampaign.org, were surfing the Web when they discovered a blog posting noting that Los Angeles County voters faced what organization spokesman Rick Jacobs calls "bubble trouble." In order for any of the county's 776,000 voters who have registered Nonpartisan to vote in the open primaries for the Democratic or American Independent parties, they would have to mark an extra bubble on the ballot naming the party for which they wished to cast a cross-over ballot. After a weekend of research, Jacobs says, CC.org contacted the office of L.A.'s Registrar of Voters on Sunday and were told it was true — an extra bubble had to be inked, and, yes, it could prove to be a big headache on election day. The bottom line: If the "declaration" bubble is not inked on a Nonpartisan ballot, the voter's presidential preference would be voided, though not the part pertaining to propositions.

By noon election day, CC.org's worst fears were realized as voters began complaining that poll workers hadn't pointed out the extra bubble. The registrar's office has tried to get word out to its workers about the issue but at this point, it's impossible to know how many votes have been lost. One thing is certain, however: It will be impossible to conduct a recount of the cross-over ballots because voters were handed both Nonpartisan and Democratic ballots and there are cases where the bubble numbers for candidates from different parties overlap.
Common characteristics, the overlap, be it in bubbles, ballots, or the barrage of disinformation is unavoidable. The public peruses multiple sources, seeks infinite references; nonetheless, little of what the people know is untainted or from an independent and genuinely reliable source. In this global village, we are all connected, interconnected, on the Internet, near the television, or scanning the periodicals. Each is owned by one of the six, General Electric, Time Warner, Walt Disney, News Corp, CBS, or Viacom, all of whom are friendly with the others. Internet users say this matters not to them. However, in truth it does.


Well, you might comfort yourself by thinking about cyberspace. Think again. The dominant Internet service provider, America Online, is combining with already-number-one Time Warner- and the new firm AOL Time Warner would have more to lose than any other corporation if a movement grew to demand antitrust action against media conglomerates.

Amid rampant overall commercialization of the most heavily trafficked websites, AOL steers its 22 million subscribers in many directions-and, in the future, Time Warner's offerings will be most frequently highlighted. While seeming to be gateways to a vast cybergalaxy, AOL's favorite links will remain overwhelmingly corporate friendly within a virtual cul-de-sac.

Hype about the new media seems boundless, while insatiable old hungers for maximum profits fill countless screens. Centralization is the order of the media day. As Bagdikian points out: "The power and influence of the dominant companies are understated by counting them as 'six.' They are intertwined: they own stock in each other, they cooperate in joint media ventures, and among themselves they divide profits from some of the most widely viewed programs on television, cable and movies."
So, Americans please take no comfort. Do not think you made an informed, independent choice. All that you read, all that you heard, what you viewed was influenced. The decision was made before you knew you could have had a choice. This, the United States, is not a democratic system.
Cast A Vote, Give Voice To Your Needs. Pray for a Democracy . . .