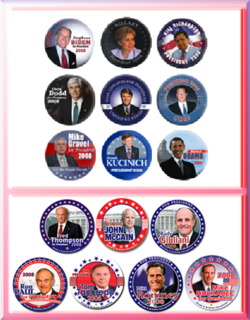 copyright © 2007 Betsy L. Angert
A tired and emotionally torn Hillary Clinton trembled slightly as she voiced her concern for the country and her campaign. A somewhat shaken Senator said, "You know, this is very personal for me. It's not just political. It's not just public. I see what's happening . . . It's really about all of us together." Indeed, Senator Clinton, it is.
For months, former Senator John Edwards has shared a similar sentiment. Once more, in an interview with ABC News George Stephanopoulos, Presidential hopeful Edwards emphatically declared, "I want to be the president who fights for the middle class, fights for working people. The kind of people I grew up with, George. I said this last night. This is not abstract or academic for me. It is personal."
Republican hopeful, Mitt Romney also embraced the phraseology a month earlier. In a campaign advertisement released in his home state of Michigan, Mitt reminded the voters, "For me, Michigan is personal." The place of our birth, the era in which we evolved, the circumstances of our lives are all personal, as are our reactions to these. When we cast a ballot in favor of a policy or a Presidential aspirant, as profound as we wish the decision would appear to be, essentially it is personal.
Each and every individual is influenced by what occurs in the privacy of his or her home. Our hearts speak more loudly than our minds. However, reluctant we are to admit this, humans are emotional beings, who rationalize their resolutions, often after the fact.
The New Hampshire primary elections, as well as the Iowa caucuses were stark reminders of the fact, we cannot predict what people will do. However, if we understand what truly motivates us, we may better understand the incomprehensible. From the moment we enter this Earthly existence, we learn what is Right, Left, Middle, or 'just wrong.'
Mommy exclaimed, "Do not do that; it is inappropriate." Daddy declared, "No more. What will the neighbors think?" Grandpa gave the evil eye when he thought some word or deed not becoming of a little lady. Grandma gently tapped young Sammy's small hand when the lass reached for what the older woman thought unacceptable. Brother James also guided the girl's decisions. "What are you; crazy?" he would say. James's manner was never gentle. Sammy's nursery school teacher was far kinder, although equally critical. "Young women do not do that." "We do not speak that way in class, on the playground, in the cloak room." "I hope you do not do that at home!"
What Sammy did at home was never correct. She wanted so much to be appreciated, especially by her elders. Even among her peers, Sammy felt it vital to feel needed, wanted, valued, and cherished. She realized at a tender age, that if she was to be happy, she must obey the rules. Sammy learned to be a good girl. Today, she still is. When voting in the Presidential primaries and in the General election, Sammy will cast a ballot for the candidate her friends' vote for. Conventional wisdom is always best.
There is a certain contentment you feel when others concur with your opinion. Life is calm Sammy, prefers agreement; she wants no arguments. Perhaps, that is why she struggled to decide, whom would she vote for.
Sammy remained undecided up until she spoke with acquaintances of the Clinton cry. Although Sammy and her friends were not Clinton constituents, indeed, they feared she might be soulless, ultimately; each plans to cast a ballot for the candidate. Just as women in New Hampshire expressed, it would feel good to possibly place a woman in the White House. The tears Hillary shed resonated within many of the "gentler sex." They thought the candidate's cry was a show of strength. Throughout America, and New Hampshire women [and men alike] personally identified with the pain Senator Clinton expressed.


Some New Hampshire women admitted they were touched by Clinton's display of vulnerability at a local cafe, when a voter asked her how she remained so upbeat and Clinton's eyes, in turn, became misty.

"When I saw the tear-up replayed on the news, it looked like Clinton was truly moved. It proved she had soul," said Carol Brownwood, a New Hampshire voter and Clinton supporter.

New Hampshire women voted for Clinton by a margin of 13 percentage points over Obama, according to exit polls.
James, Sammy's sibling, was never much for conventions. He was a rebel. For him every issue was a cause. As an adult, James will likely not vote for the most popular candidate. He plans to weigh every angle, assess each agenda. James will do his own research before he decides whom to support in the Presidential Election of 2008.
Even as a youngster, James had a mind of his own. He knew what was truly important and what was trivial. It did not much matter to James what his Mom or Dad might think. This chap was certain when he thought a particular point of view right or wrong. While James valued his parents' opinions, and he did, he was his own person.
When James screamed "No," at the age of two, it was not a phase; this tot could be authentically defiant. No matter his age, James was never afraid to speak up. "You are just wrong," he would tell his mother or father. In truth, James often took what his parents thought to heart. However, he would never give Mom, Dad, or most anyone else, the satisfaction of knowing that he thought their opinion wiser than his own.
In his youth, James was independent and strong. Competitions were his pleasure. Enrolled in Little League, Soccer, and Football at an early age, James learned to be a sportsman. He understood how important it was to win. He still does.
Throughout his life, James has been a fighter. In college, the young man was considered a radical. He protested for peace. The little guy was his friend. An underdog could soar when in the company of James. He cared for his fellow man deeply. This chap worked on a political campaign. He was an activist, and he was motivated to make more of his life. James studied as hard as he played.
Later, as an attorney, James did not shy away from a fight. In his professional career, he retains his principles. While James could make scads more money as a corporate lawyer, he serves the downtrodden. James is known as an aggressive trial lawyer. He fights for what is right. John Edwards is his candidate of choice. As he ponders the tales the populace aspirant tells, James relates. For James, just as for John Edwards, the battle for change is personal.


One Edwards supporter, departing after a big rally in Des Moines on Saturday night, said he hasn't heard a message as passionate or strong since Bobby Kennedy's 1968 presidential campaign.

Nice clothes aside, Edwards has turned street-fighter for the final stretch run. His message can be boiled down to a single word — "Fight!" — which he repeats over and over and over and over again: Fight. Fight. Fight. Fight.

Edwards has rolled out anecdotes he never used in the past to make it all the more personal. They conjure up images that hardly square with his slight frame and good looks. He was, as he now explains, a brawler as a kid, taking on bullies the way he later took on corporations and insurance companies as a trail lawyer.

"Like many of you, I had to fight to survive," he told an audience of nearly a thousand people on Saturday night. "I mean really. Literally."

He describes the southern mill town where he grew up as a tough little place and tells the story of getting into a fight one day with an older boy. "Got my butt kicked," he says. When he got home, his father offered a stern lesson in life.

"I don't ever want to hear, son, about you starting a fight," he says his father told him. "But you listen to me and listen to me clearly. I don't want to ever hear that you walked away from one. Because if you're not willing to stand up for yourself and if you're not willing to fight, no one will stand up for you."
Emma, James closest friend is not a fighter. She is a woman, yet, not one who sees herself as a warrior. While Emma might love to have a woman in the Oval Office, she does not want Hillary Clinton to be her President. John Edwards does not move this passionate person. Too often Edwards goes negative. Emma experienced enough combativeness in her life. She is turned off by the fervor she experienced in her family home.
Emma grew up in a good home. Her parents are well-educated. Each, is a professional in his or her own right. Economically, her family is considered Upper Middle Class. By all appearances, this young woman has had a good life. She and her folks are healthy, slightly wealthy, and definitely wise. However, when Emma was young, she realized, for her Mom and her Dad, every event was a drama, a trauma, a crisis, or a catastrophe.
Emma often hid under the bed, went to another room, spent time at a neighbor's home, just to avoid the chaos she experienced when with her relatives. As the little girl blossomed, she realized there was fun to be had. "You cannot choose your family, but fortunately, you can choose your friends." A cheerleader, a "Journalist" on the school newspaper, active in a school leadership program, Emma was quite popular.
Academically, Emma had been and continues to be a serious student. She is enrolled in graduate school, and is doing very well. She is enthusiastic and energetic; however, she has never been energized by politics . . . that is until now. Although, in the past, Emma defined herself as apathetic, now she sees herself as an activist. Emma intends to vote for Barack Obama. She feels as many throughout the country do. Individuals, particularly those in her age are excited. This may be the first time Emma will vote in an election. She is stoked and not alone in her excitement. Since hearing Obama speak, for Emma, this election is now personal.


"I just started hearing a lot about him last year, so I started doing my own research," says Kinkead. "I wanted to know who this guy was that everyone was talking about. I know he has a liberal voting record in the Senate, but he just seems so open-minded to me. He'll be able to work with Republicans and get stuff accomplished. Hillary Clinton has too much baggage."

Young voters helped propel Obama's win in Iowa and McCain's in New Hampshire. Exit polls in New Hampshire indicated that 31 percent of the youngest GOP voting group went for McCain, with 23 percent voting for Romney; 51 percent of young Democrats supported Obama, while 28 percent supported Clinton.

In Iowa, Obama won 57 percent of the youth vote, compared to 11 percent for Clinton.

The social networking site Facebook has been a huge hub of political interest, with students flocking to Obama on the Democratic side . . .
Others in the cyberspace community may be connected however, the do not wish to join the rally for Ron Paul nor do the oratory skills of Barack Obama sway them. Beth is among those who walks to the beat of a different drummer. This woman is not old or young; however, just as the candidates and constituents she too is deeply affected by her history. Beth's parents were and are scholars. Amidst her earliest memories, Beth recalls research. Daddy would ask her of newspaper articles she read. The discussions were deep. He was not only interested in her superficial comprehension skills he wanted to be certain his daughter became a critical thinker.
Mommy's style differed; however, the intent, and results were similar. Beth's Mom, a brilliant woman, read endlessly. She spoke of all the information she devoured. This highly erudite parent encouraged her daughter to be herself, not part of a group, not identified by her gender, not even rigidly tied to which hand she preferred to write with. Beth, just as her mother, never fit in, and she was fine with that. Mommy and Daddy were principled people, not influenced by peers or popularity, and so too is Beth. Perchance that is why she supports Dennis Kucinich. She feels personally obligated to her country and all the people. For Beth ethics matters more than an election win.


I think the question isn't whether I have a chance. The question is whether peace, health care, jobs for all have a chance. Everyone participating in this chat, everyone reading it, needs to ask what this election means for them. If it means not staying in Iraq until 2013, then perhaps people should consider my plan to leave Iraq immediately and employ an international peacekeeping force. If you want peace in the world, consider that I'm the only candidate who rejects war as an instrument of foreign policy.

This isn't just about Iraq or Iran, this is about a president wise enough to work with leaders in the world to avoid conflict. While I wouldn't hesitate to defend our country, I've shown more than any other candidate that I understand the difference between defense and offense. . . . I'm the only candidate running who voted against the war and against funding for the war. To me it's inconceivable to say you oppose a war you've given hundreds of billions of dollars to.

If people are participating in this and are concerned that they have an outcome in this election that relates to their needs, they should know that I'm the only candidate who would create a not-for-profit health care system that would cover everyone.

No other candidate is saying they would cancel NAFTA and the WTO — I've seen the devastation wrought by these agreements. I've stood in front of the locked plant gates, with grass growing in the parking lots. I've seen the boarded-up nearby business communities, the neighborhoods where people had to leave because they couldn't pay their mortgages.

I'm the only candidate talking about a profoundly different energy policy, moving aggressively toward wind, solar, and investing heavily in green energy, reorganizing the government along principles of sustainability. We have to challenge these oil companies — we're in a war in Iraq because of oil, one of the principle reasons we'd attack Iran is because of oil, we continue to destabilize our relations with Russia because of oil.

It's time for Washington to get control of our energy polices, and the only way we may be able to do that is to take control of the oil companies. We cannot sacrifice our young men and women on the altar of oil. We must regain control in the nation, of our ability to truly be a government of the people, by the people and for the people. That's why I'm running for president, and in the end if I win, the people of the United States will win.
For a time, people, from various backgrounds, also endorsed Dennis J. Kucinich. Beth met declared Democrats, Independent minded Greens, Libertarians, and even Republicans who thought the Congressman from Ohio was the only one who could and would turn this country around in a way that gratified them personally.
A wide breadth of the population thought the Presidential hopeful would be the best for the country as a whole. However, as is oft occurs, personal perceptions became the reality. The true Progressive, Congressman Kucinich was haunted by a claim continually, reiterated by Americans, "Kucinich is not electable." This statement was frequently preceded by the phrase, "Kucinich is great, but . . ." Group think set in.
Intellectuals, pundits, so called professional political analysts, and regular persons would say this is not so; however, as we assess human behavior, it is a challenge to think otherwise.
A public less aware of the dynamics of a caucus, or familiar with a seventy-two page rulebook, concludes a decision to influence a voter's second-choice in Iowa might be thought a sign of weakness; perhaps a concession, or even an endorsement. Some avid Kucinich supporters began to question the candidate's faith in his campaign. More importantly, many Kucinich backers felt personally abandoned. The slogan "Strength through peace," was less forceful than this allowance. To suggest an alternative commitment may be less strong than the sweet smell of freshly baked bread or a promise to stroke your back if you rub mine


Intimidation is not unknown. Also, it is possible for a leading candidate to help a weaker rival against a stronger one.

More often, though, the gaming of the caucus and the wooing of supporters is subtler.

In a training video prepared by the Edwards campaign, for example, a cartoon precinct campaign named Joe leaves for the caucus with a calculator, Edwards signs, and fresh bread. The narrator explains: "His homemade bread is perfectly positioned. Everyone can see it and smell it, especially the undecideds."

Then, too, "there are always stories of 'I'll shovel your walk the next time it snows,' " said Norm Sterzenbach, Iowa Democratic Party political director.
While these tactics are troublesome, perhaps what worries supporters of any candidate is their own "personal" standing . . . in the community, in a crowd, in the cavern known as their rational mind.
Might we speculate as to why a presumed front-runner receives more funds in support? After a primary win, contributions come in. Every person in the electorate scrutinizes a candidate and the company he or she keeps. The assumed quality of a spouse can be an asset or a deterrent to the campaign. If nothing else, when humans are involved, whom a Presidential hopeful weds, why, or when, will certainly be a distraction. Americans, humans are invested in the personal. People ponder their lives and wish to know what occurs in the lives of others.
Politics is personal. Running Mates, and these are not possible Vice Presidential choices, warrant an in-depth and detailed article in the Washington Post. These individual have greater access to the future President than any other person might. If Americans elect x, y will have the President's ear, heart, body, and soul in their hands. The electorate believes spouses are significant. The personal permeates the political, or at least, Newsweek Magazine thought so. This periodical devoted a full spread to the Bill factor.


His New Role

By Jonathan Darman

Newsweek

August 21, 2007

"Man, I like that stuff," Bill Clinton said. "I shouldn't eat it, but I like it." It was Sunday, March 4. On a private plane headed south from New York, the former leader of the free world was staring hard at a fully stocked bowl of food. A recovering snack-addict since his quadruple-bypass surgery in 2004, Clinton was thinking about falling off the wagon with a few bags of Fritos and some granola bars. No one on the plane was going to stop him-certainly not Malcolm Smith. The Democratic minority leader of New York's state Senate, Smith was just happy to be along for the ride. "He sat right in front of me," Smith later gushed to a Newsweek reporter. "We shared the food." . . .

For Hillary's campaign, "The Bill Factor" is a complex one. To some he's a shrewd politician, a clear thinker, a brilliant explicator who was president during an era of relative peace and indisputable prosperity. To others he's "Slick Willie," an undisciplined man who let his private appetites, and his addiction to risk, blur his focus, distracting the country for much of his second term.
Nonetheless, a polished President offers the public a sense of personal security. The Clintons are a known entity. They have a traditional marriage, and they have proven themselves in many arenas. Regardless of whether or not you agree with their positions, the two are accomplished; certainly not on the fringe.
Barack Obama is also quite an achiever. Born to parents who separated when the future Harvard scholar, United States Senator, and front-running Presidential aspirant was but two years of age, Barack Obama went on to create a stunning and successful Christian family of his own.
When wife Michelle Robinson Obama is by the candidate's side, audiences marvel. The couple is physically beautiful. The two are statuesque and poised. Each is extremely accomplished. Michelle Obama is the a vice president at the University of Chicago Medical Center. Initially she was criticized for retaining this position during the campaign. However, since she agreed to reduce her workload and currently works far fewer hours than she had, the public, many of whom took her to task for her "personal" life, are now content. People specifically enjoy how real this spouse is.


[Michelle] She has revealed that the man who may become the world's most powerful politician is sometimes banished to the spare room for being "kind of snory and stinky." He also admits obeying her instructions to give up smoking before the campaign.
[Michelle] Obama got off to a rocky start in her early speeches when she talked about her husband's dirty socks and how he was "stinky" in the morning, an image people perhaps might have found a little too human. Those references have since been dropped from her stump speech, and she's not giving many interviews these days.
On the other hand, Elizabeth Edwards volunteers to speak to anyone, everyone. Wife of John Edwards, Elizabeth, is equally at ease in most any situation. She does not hesitate to speak her mind.


Elizabeth Edwards will say in one breath that her job is made easier by the fact there are now "so many more female role models in careers like entertainment, the media and politics." But she will also say she's not about to make the same mistakes Clinton did.

"Hillary Clinton in 1992 is a lesson in what not to do," offers Edwards, also a lawyer by training, whose husband is one of Clinton's opponents in the presidential race. "She was dismissive of the range of options women had chosen, declaring, 'I don't bake cookies. . . . I don't stand by my man.' That turned off some people."

Elizabeth Edwards has been startlingly outspoken during this campaign, calling in to a live news-talk program to take on right-wing pundit Ann Coulter on national television and saying there was too much "hatred" of Hillary Clinton for her to win the general election. She maintains she's not behaving much differently from 2004, when her husband was the Democratic vice presidential nominee. "There's just a lot more coverage," says Edwards, who has received additional attention since revealing she is battling incurable cancer.
In a campaign where every issue is personal, even illness can be the cause for insults. John was judged harshly as he continued to campaign. Some said he was consumed with ambition. Many mused, why did Elizabeth not take it easy. The drive to the White House is long and hard.
Nonetheless, many men, women, and spouses seem up to the challenge. As we learned in what many thought to be a "personal" attack, some aspirants thought to seek the presidency when they were in kindergarten. Others decided later in life. Each has a history of profound accomplishments achieved at an early age. As Americans, we appreciate a good wunderkind tale.
In this country, the legendary captivates our attention. After all, we all wish to aspire to excellence. The excellence achieved by another gives us reason to believe, and we do have personal stake in a candidate's story.
Another aspirant also has a tale to tell. At an early age, Dennis Kucinich was also considered a genius. He had dreams and accomplished more than most thirty-one year olds. Dennis Kucinich was elected Mayor of a major city, Cleveland, Ohio. The young public official stood on principle against a corporate giant and saved the city and the community millions. While the yarn is legendary, it is not as distinguished or as frequently discussed as wife, Elizabeth Kucinich is.
True, English born Elizabeth Kucinich is not close in age to her husband, as are the wives of numerous other candidates. Conservatives John McCain, Rudy Giuliani, and Fred Thompson married women much younger than they. However, that is but a minor source of intrigue. What mesmerizes America and is among the stories supporters felt a need to stave off is the metal in the exquisite woman's mouth.


O'Donnell: I have to ask you about two very interesting things. Because America has had a traditional of having traditional first ladies, if you will. You would be the youngest first lady ever if your husband were elected president. You have a tongue ring. What about that?

E. Kucinich: What about that?

O'Donnell: Well, it's very unusual. I don't know that there are many political spouses who have tongue rings.

E. Kucinich: I'm 30 years old. I've had it for 10 years. I don't see it as being a problem. I do still wear pearls.
The English Elizabeth Kucinich hints at the truth the American electorate is embarrassed to avow. In this country, politics, policy, and proposals do not garner support. A president is not placed into the Oval Office when the constituents prefer his or her plan. Appearances matter more than the issues or a solid, substantive agenda.
Each ballot is a personal endorsement for a look, a life style, a gesture, a posture, and on rare occasions, a principle. A vote for a candidate is an endorsement for the values of friends, family, business associates, and anyone who might judge an individual. Americans want to elect a winner, someone whose rise, will add to a voters personal sense of worth.
Principally, what most Americans wonder about as they assess the Presidential contenders, what causes citizens of the States to worry, and weep is as a questioner in a recent debate inquired. "Do you prefer diamonds or pearls?" If a constituent thinks, he or she can "personally" relate to the answer a candidate delivers or the manner in which they reply, then that candidate can pack their bags and move into the White House on January 20th. In Election year 2008, Hillary, John, and Mitt are correct; for them, you, and me this process is personal.
Personal, Personalities, Preferences . . .