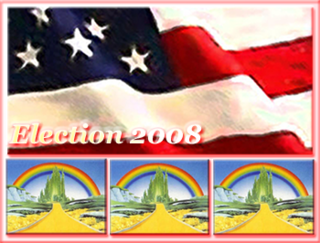 copyright © 2007 Betsy L. Angert
Americans, mired in debt, desperate for adequate Health Care, fearful of foreclosures, and worried about a protracted war, cry out for change. Compatriots wish for a wizard, one who will work for the common folk, and not solely for self, a Commander-In-Chief who will acknowledge the current crises, and lead us into a Land like Oz. We want America to be the perfect country. We wish to be known as benevolent, caring, compassionate super power. We yearn to say aloud with conviction, "There is no place like home!"
Throughout the nation, citizens are thankful we have an opportunity to transform this country. Americans have the right to vote their conscience. In the land of the free and home of the brave, we can and will advocate for the values that made this country great. Citizens will walk through snow, sleet, ice, and rain to cast a ballot for the man or woman we think right for the homeland.
Democrats and Republicans alike hope to improve this nation and their station. The difference may be in degrees. For now, those most desirous of a Progressive revolution are the downtrodden. Democrats yearn for an event that will take away from the daily grind. Those on the Left hope for a gust of wind that will place them in the Emerald City where life is Green and clean, and where average people are the priority. Thus, Democrats participate in the process; they are intimately informed.
Iowa Caucuses, New Hampshire primaries, and the polls. Do we have a consensus? Is there a crisis on the campaign front? Might the race be too close to call, or is it all merely a manufactured media myth. We are told Hillary is ahead, or she was. Perhaps Edwards has the lead. Barack Obama is closing in, or was with the help of Oprah, maybe. Some skeptics say the throngs of fans want to touch a celebrity. The Obama/Oprah ogling will not necessarily equate to votes. Bill Clinton can do what no other has. Certainly, he will boost the New York Senator's numbers. However, the charismatic Clinton may not be enough; or perchance he is or has too much, too much power, influence, and baggage. No one is ever certain what the other Clinton will say or do when he publicly steps onto the stage. John Edwards might be the come from behind kid. This man and his family have seen and experienced hardships. After the pain of his son's death he, and wife Elizabeth have been on a shared mission.
This synopsis is Democratic politics in America, or is it? There are whispers of Joe Biden, Chris Dodd, Bill Richardson in the halls of Iowa and New Hampshire hotels. The media mentions these notables may wish to accept another position. On the hill, the same is said. Each is considered experienced. Any of the three would be an ideal Vice President or Secretary of State, or so we are told. What we do not hear is what Americans would think if they were not told what to believe.
We read the research. A survey can be slanted to produce the desired results. Apparently, the polls are designed to deliver the information that the candidates, the campaigns, the columnist think our countrymen must know. Americans have head the rumors, the rhetoric, and the railed against such surveys. Intellectually, we understand that studies are skewed. Yet, we, the people repeat what we are told. He cannot win; he is too short. She will polarize the electorate. He is too Black, or is not enough of an Afro-American. He understands how divided the country is, and he will work to change the system. He has his place; it is just not in the White House. He would make an excellent Secretary of State, an Ambassador, or perhaps he serves us best in Congress.
Even the most articulate and educated cannot resist reiterations. Knowledgeable learned scholars, just as everyday students of the issues succumb to the standards. Perhaps, since few of us have the opportunity to validate what we trust is likely true, we surrender to the situation as it is reported. Thankfully, there are moments that allow us perspective.
On the eve of the New Year word spread far and wide. In electronic communiqués, reality and reason were evident. New Hampshire voters shared their experience, their distress, and disgust. Citizens in the land of the free, and home of the brave, are afforded only select choices. One candidate is dismissed before the electorate can cast a ballot. Yet, a few spoke out in dissent.
New Hampshire resident, Helen distressed and distraught wrote to her friends after she received a telephone call.


I just received a political phone call asking if I was going to vote in the primary. Then she asked if I was voting for a Democrat would it be Hillary, Biden, Obama, Edwards and a couple of others, and I told her she left the best one out – Dennis Kucinich. And she asked, "Is he a Democrat?" It turned out that she is working for the Clinton campaign. If she's representing the Clinton campaign, that's another reason not to vote for Hillary. The young lady did thank me for the information!
Imagine, within the Clinton Camp an campaigner, a spokesperson for the presumed future President knows nothing of another Presidential hopeful. A vibrant voice of the people is muffled so succinctly. The sounds Dennis Kucinich makes are silenced before those that live in the cloudy skies of politics-as-is can hear them. Fortunately, among the electorate and the friends of Helen there are those who like to label themselves '"enlightened" and proud of it.'
A few more-than-typically-well-informed voters care enough to look behind the golden curtain. Some in Iowa and New Hampshire understand they do not live in the Land of Oz. These compatriots comprehend, even if they themselves are prosperous, others are not. As good citizens these individual believe to their core they must act in accordance with the Constitution and consider all people are created equal. Helen cares for the common folk. See recognizes that Dennis Kucinich lived in dreadful poverty. He will do more than express false or fragile piety; Kucinich will relate and react to a circumstance that is real for him. This voter longs for a President who does more than posture and profess. For this compassionate soul, it is time for true change.
Like Helen, other people in New Hampshire [and Iowa] do not wish to follow the yellow brick road just because they are told that is the way to the Emerald City. A few know to trust that promises of fortune, or a solid foundation do not come when, for the most part, the status quo is sustained. Universal Health Care with Insurers in charge will not cover those who cannot afford the cost at any price. War will not end if one soldier remains in Iraq to "secure the peace" within a sovereign nation.
In the Granite State, the constituency can be hard to sway. A body of voters can challenge the conventions, and they do. When Aprille received two similar survey calls, she responded with glee, then revulsion.


I have had 2 phone calls just like that one and I did the same thing. The most recent one asked if I was voting for Clinton, Obama, or Edwards. I said…."There are a heck of a lot more candidates running, why aren't you mentioning them?" She said, "Who are you voting for?" I said…"I'm planning on voting for Kucinich." She said, "Kucinich?" I said….."Yes, Kucinich. And if you refuse to include the other candidates, then this is a bogus survey!" As I was hanging up, I heard her say that this survey was paid for by the Hillary campaign! What the bleep!?
Indeed. Might Americans consider what is true. Contrived, campaign rhetoric, and more importantly push polls [political telemarketing masquerading as a poll], do not give the constituency a choice. It is all good and well that the people are promised they can take their country back. However, in truth, as long as the public is told who will win, who is electable, and who is not worth a mere mention, then this election will be just as those we witnessed in 2000 and 2004. Cast your ballot. Then, let the courts decide.
America, as long as you vote as the wizards of Wall Street tell you to, if you cast your ballot for the person you believe will win, because that is what the broadcaster say is "spot on," then this country will not belong to the people on Main Street. Each time we choose the person defined as a victor, we give up our freedom. We are but munchkins, ruled by the glorified little man who stands behind the curtain and pulls the switch.
In fantasylands, citizens may never suffer. It seems people do not need to settle. Wizards work wonders. The people only follow their lead. In America, if we are all to prosper, life must be different. People in pursuit of happiness cannot take jobs just to survive, as they do now. They must not marry solely for money, food, or shelter. We can no longer vote for the candidate of "hope and change" while aware of the fact that this person is solidly part of the system that ensures our life is miserable.
In truth, in America, there are no glittery gold pavements, or yellow brick roads, that lead to Emerald Cities. We, together, the common man, woman, and child, with a leader who fully relates to our plight, must build these communities. Wizards who can offer us a heart, a brain, or courage do not dwell in the White House or on the campaign trail. We the people can make magic if we choose to think and act for ourselves.
If life is to be grand, we need to accept that Presidential hopefuls are humans. If a leader is to lead well, he or she must be able to relate to what we go through, for they have lived, and continue to live among us. If a candidate speaks of our carbon footprint, we might ask, what is yours. When asked of trade agreements, might we muse, Mister or Madame Presidential hopeful, how has such a pact transformed your life. Talk of deep pockets could prompt a look into the purse that strings an aspirant along.
Americans must be more realistic and less enamored with emeralds that they do not own, if they are to chose someone who will truly represent them. Just as a small paycheck alone will not secure our future, a political aspirant who speaks for the elite will not help bring us to the bargaining table. The cash of a spouse who lost his or her job will not bring endless smiles. Nor will our contributions to a campaign that is beholding to corporate influences help cure our ills.
If we wish to live in the Land of Oz, Americans must create it. We, the people, and a President, who is, as we are, must take our country back.
In our everyday existence, we accept that good looks and charm will not keep us warm at night. Nor, will the pretty one provide adequate Health Care. When on the streets, in the office, or at home we acknowledge that a sweet-talker does not have our best interests at heart. We recognize a colleague who wants only to climb. A snake-oil salesman smells of no good. A song and dance does deliver more than a tune.
Common folks flee when they encounter scams during their daily deeds. Yet, come election season, when Presidential candidates whisper words of all-I-want-to-hear . . . unless we are Helen, Aprille, or perhaps you, and I, citizens will follow the yellow brick road and forget who paints that pavement.
In 2008, and in all the years hence, let us remember that unless and until we recognize the wizard is in each of us, and in a nation united for a just cause, there will be no change.
Words for Wizards, and We, the People . . .