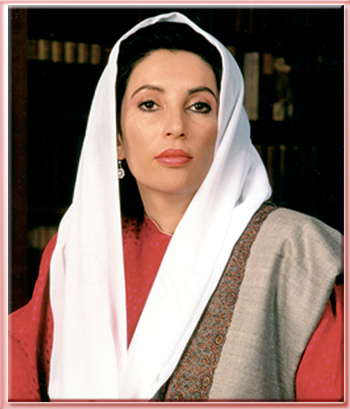 copyright © 2007 Betsy L. Angert
Millions of Americans awoke to the news; Benazir Bhutto was killed in an attack. The daughter of a former Prime Minister, and twice Prime Minister herself, Bhutto, months ago returned to her homeland, after a self-imposed eight year exile.
The Harvard graduate ventured forth with a hope and a dream that she might unite her mother country. The scion and scholar arrived in Pakistan amidst much fanfare and furor.


Benazir Bhutto was a deeply controversial figure.

Western-educated and charismatic, she presented herself as a moderate, democratic force. As such she was widely courted in the West. The United States hoped she could restore popular legitimacy to President Musharraf's failing war against Islamist militants.

But she was widely seen as having misused her office for her own financial gain and faced a number of court cases, both inside Pakistan and outside the country. Islamist militants hated her for her pro-American views.

Earlier this year, Ms Bhutto and Mr Musharraf had been working on a power-sharing agreement. The talks failed, leaving Ms Bhutto as the biggest political threat to President Musharraf, rather than an ally.
Therein lies the question many citizens of the United States ask. Who, among the leaders in Pakistan is a friend to America and who is the foe. Benazir Bhutto was our lover, devotee, and we her enthusiast. Yet, for years the White House has happily courted the current President of Pakistan.
Despite talk of terrorist encampments and anti-American sentiment within Pakistan, the Bush Administration spoke of General Musharraf as a friend of the States. Oh, the President of the United States and President, General Pervez Musharraf had their differences. There was a time when the leaders aired their angst aloud. However, ultimately, the two kissed and made-up as couples often do. The world powers then walked off into the sunset, hand-in-hand. Each, revels in the joint venture to fight against Islamic insurgents.
Granted, there were other rifts. Commander-In-Chief, the American military commandant demanded that the General take off his uniform. After Pakistani President, General Pervez Musharraf imposed martial law and suspended that nation's Constitution, there was fear within the White House. Federal officials stated our ally had gone too far. His decision to wear military garb exacerbated the situation. An elected official cannot be considered militaristic. During a telephone conference with the Middle Eastern Head of State, President and Commander George W. Bush expressed his distress with the man who supported the United States in its endeavor to spread democracy.


"You can't be the president and the head of the military at the same time," Bush said. "I had a very frank discussion with him." . . .

"My message was that we believe strongly in elections, and that you ought to have elections soon, and you need to take off your uniform," Bush said.
Perhaps this derision was the last straw. It was time to move on, move forward, or stay the course with a new face at the helm. Certainly, there is no need to imagine; were Benazir Bhutto Prime Minister of Pakistan, she too would have joined US in combat against "terrorists."


The U.S. has long supported a return to power by Bhutto, who was perceived to be a moderate willing to work with Washington on the war on terror. She was also seen as a democratic leader who would serve as a counter to the plummeting popularity of Musharraf, who took power in a 1999 military coup. It was thought that a power-sharing deal between the two, in which Musharraf stayed on as president while Bhutto lead as prime minister, would promote stability in this nuclear armed nation of 165 million. But from the day of her arrival in Pakistan after eight years in exile, Bhutto's return has been marred by violence.
We can only surmise that the hostile environment did not worry the Americans, the Bush Administration much. After all, aggression is the way of this White House. It matters not who leads or lends a hand as we go into battle. As long as the war continues, a surge strategy is maintained, and fear is sustained. Then, the hawks win. All must inquire; is that not the most important aspect of this New World Strategy.
We can peruse the Pakistani papers. We can read the rhetoric of the Right and the Left in America. Candidates can recount their experience of Benazir Bhutto. Still, there is reason to believe we know nothing of what really happened and why. The common folk are not even certain they understand how to care for a tragic event that has now become a campaign battle cry. Americans listen to the words of woe, and the warnings. Again we are told, in the name of democracy, we are at war . . . and do not forget it!


"The United States strongly condemns this cowardly act by murderous extremists who are trying to undermine Pakistan's democracy," Bush said. "Those who committed this crime must be brought to justice." . . .

With the first-in-the-nation Iowa caucuses just a week away, U.S. presidential candidates also swiftly condemned the killing and stressed the need to fight terrorism.

The assassins who killed Bhutto "must be brought to justice," Republican presidential candidate Rudy Giuliani said Thursday.

"Her death is a tragedy for her country and a terrible reminder of the work that remains to bring peace, stability and hope to regions of the globe too often paralyzed by fear, hatred and violence," said Democratic frontrunner Hillary Clinton.

New Mexico Gov. Bill Richardson, who is trailing fellow Democrats Clinton and Barack Obama in polls, said a leader has died in Pakistan "but democracy must live."

"It is in the interests of the U.S. that there be a democratic Pakistan that relentlessly hunts down terrorists," Richardson said in a statement.

Campaigning in Florida, current Iowa-caucus Republican frontrunner Mike Huckabee said he is "deeply troubled" by the news of Bhutto's killing. Former Massachusetts Gov. Mitt Romney, meanwhile, said the U.S. must stand with moderate forces across the Islamic world "and together face the defining challenge of our generation — the struggle against violent, radical jihadists."

"For those who think Iraq is the sole front in the war on terror, one must look no further than what has happened today," said Romney, a Republican. . . .

Giuliani, who was mayor of New York City during the Sept. 11, 2001, terrorist attack that brought down the World Trade Center, said Bhutto's death is a reminder that terrorism anywhere "is an enemy of freedom."

"We must redouble our efforts to win the terrorists' war on us," Giuliani said in a statement.

"This is devastating news for the people of Pakistan, and my prayers go out to them as we follow developments regarding this dire situation," Huckabee said in a statement.
Once again, Americans must acknowledge that purposely, we are not fully informed. As long as war remains in the wind, we cannot and will not speak of peace. In an era where faux-Progressives stress the need for global tranquility, as they plan to wage war for at least another term, we must remember that when conflict is the cause of strife, it will also be the effect.
Americans and citizen worldwide can only hope that we, as a world will decide not to focus on assignations and the aggressive demeanors that lead to these. We might dream of the impossible, harmony, and create it.
Together let us take a moment and rest in peace. Perchance, we might listen to the words of the one Presidential hopeful from either nation, Pakistan or the United states, who wishes only for serenity planet-wide. The aspirant that believes we can achieve the impossible, what same think absurd offers his words of wisdom.


U.S. Congressman Dennis J. Kucinich (D-OH) issued the following statement after learning of the death of former Pakistani Prime Minister Benazir Bhutto. Bhutto was killed in Rawalpindi, Pakistan in a suicide attack following a campaign rally.

"This is a very dangerous moment for the world," Kucinich said. . . .

"The United States must change its policy direction in the region. It must stop adding fuel to the fire."
If we truly wish to establish world unity, Americans and Pakistanis alike cannot condone combat, in any form, on foreign or domestic shores. If we are to authentically invite and work for peace, we, as a nation, as individual people must live our lives in harmony. We must be calm when in the company of our neighbors, strangers and genuinely care for our selves.
Peace, Pax. Hasiti. Amniat.
Source of Serenity or Strife . . .