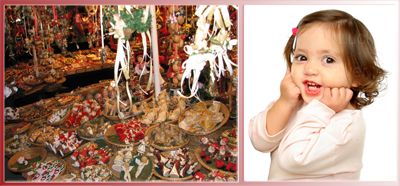 copyright © 2007 Betsy L. Angert
The holiday season is the best and worst of times. It always was. The food is phenomenal. The feelings that fill a heart, mind, or is it my stomach can cause enormous misery. For a person immersed in the rituals of bulimia the latter weeks of the year are better than all others. Opportunities to indulge are ample during the holy days. The selection of food fare is far superior. Scientific research on food reaps ample rewards. The secretive practice of self-imposed solitary confinement causes much angst, or could, if one were not able to find an escape in food.
Fortunately, a bulimic can and does take flight. She or he can sprint to the stores. There selves are filled with cashew nougat cookies. Boxes of these white wonders melted in her mouth. Delicate doughy dinner rolls lined every end display. These delicious buns were strategically placed in case a customer forgot to grab them when in the bread aisle. Buns sold for pennies. Christians, Jews, Gentiles, those who worship Jehovah, Muslims, Agnostics, Atheists, and more must love these doughy delights. While stuffing was a staple, in the winter, the cost was nominal, and the supply was grand. She could fill her shopping cart with boxes a plenty.
In the dairy section, sweet and savory eggnog was available. This liquid ambrosia did not appear before or after the national celebrations. She could hardly wait for the New Year. Grocers would reduce the price on this stock and she would buy all she could. She would place the excess in the freezer and save these for another day. As America celebrated, so too did she. However, her festivity was a bit less conventional.
She needed no lights, no tinsel, or tree. A menorah, or a Kinara were not necessary. An image of the crescent moon, or the five-pointed star, was not important parts of her ceremonial gala. All she needed was food. She no longer required family to enjoy. Food was her kin, her kind of company.
When Bethany was a child, Thanksgiving Day brought songs of the good cheer. Merriment filled the house. Mommy and the little lass would sing all the traditional carols. Dradle, dradle, dradle, I made it out of clay. O Tannenbaum, oh Christmas tree, Sleigh bells ring on a silent night. As December 25th approached, the family dashed through the snow, roasted chestnuts, and pa rum pum pum pumed with the Little Drummer Boy. Her Daddy said the gaiety made no sense to him. Yet, he laughed aloud and reveled in the expressions of glee. Daddy tried not to croon and carol; however, at times he joined in the caroling.
Times were good. The late November dinner was usually turkey. Mashed potatoes and gravy made from scratch graced the table. Home-baked breads also adorned the setting. Daddy carved the meat with studied finesse. Mom dished out the stuffing. Homemade pies and cookies sat in wait. There were many choices. Mommy baked for days on end. Lemon meringue was for Lisa. Bethany preferred pecan pie. Dad did not decide until he was ready for desert. Would he dive into a traditional pumpkin pie or save that slice for another occasion?
In her family, food was considered the means to celebrate life. Mom, Lisa, and Bethany ate when they were happy, dined when they were sad. Each of the ladies filled lonely days and nights with chow. Fodder brought thought; it stimulated reflection. Realizations occurred over a bowl of soup, cereal, salad, or stew. Daddy was not as dependent on victuals. However, Bethany's first father was a glutton, for punishment and pleasure over a plate of steak, veal, lamb, or lobster. That man customarily consumed as though there was no tomorrow.
Bethany recalled every New Years Day, Michael sat on the bathroom floor slumped over the toilet bowl. He puked and purged until he could do no more. When his stomach was empty, then he would stop, only to await the time when he would fill up again.
For Michael, bingeing and ridding himself of all he ingested was not habitual. However, it occurred often enough. The activity was a vivid memory for Bethany. Perhaps she learned to adopt bulimic behaviors. After all, aspects of the conduct were part of her experience.
For her natural father Michael, life was an adventure. He thought it fun to be spontaneous. Bethany was more of a scientist just as her Grandfather had been and as her Dad trained her to be. The little bit of a girl questioned everything. Studious as she was she researched the minutia. There was nothing in her life that did not involve great thought.
When she first chose to relieve herself of food, it was a calculated decision. Early one evening, during dinner Bethany ate so much. After the meal she could barely move. Consumed with a sense of discomfort she sought relief. It occurred to her, if she simply flushed out the food, all would be well. However, she discovered as all scientists do, it is never possible to truly control the environment, or the outcome of any experiment. Indeed, in an investigation, what seemed a solution to a problem, could, and did control the researcher.
Physiology and psychological components are more powerful than mere mortals might wish themselves to be. Addictions may begin with a conscious decision as all actions do. Nonetheless, there are forces that preclude logic and rational thinking. The body is more than a reasonable brain.
Quickly, what was meant to be a moment became a lifestyle. Hence, Bethany concluded she must learn to cope. To survive this young being would have to learn the science of intake and surrender. She measured her moves. What edibles went down smoothly, and which released themselves from the stomach walls smoothly.
While cottage cheese is often considered the finest pabulum for those who wish to lose weight, for a bulimic, this provision is a nightmare. The tiny curds stick to the innards. The amount of acidic bile needed to breakdown this dairy product is ample. It seems a single soul cannot produce enough enzymes to eliminate this compound within a reasonable amount of time. Most cheeses clump once in the digestive system.
All through the holidays, cups of cheese spreads fill the grocers delicatessen cases. Spreads are smooth to the taste, and smoother on the tongue as they slide in and out of the most central orifice.
Milk will cuddle if it sits on the kitchen counter for too long. It does the same if left for any length of time in the stomach. Eggnog, however, glides through the system. She knows not if the egg, sugar, or other additives make the difference. Bethany only understands that this is a delight.
Summer potato salads may be flavorful. However, a boiled and particularly pulverized tuber does not travel as well as the mashed perennial plant does. The moist breadcrumbs that we call stuffing are an interesting delicacy. The ingredients within the mixture matter more than the actual entrée.
Hard cookies can crumble into bits in the outside world. They do the same once digested. Miniscule particles spilled on the floor can be difficult to clean up. When in the body cavity these small pieces scatter. The fragments of food do not gather in as a group, and exit as one. Flat crisp baked goods do not easily escape; yet, the holiday goodies cashew nuggets, goes down and comes up as a silk scarf might.
Indeed, the holidays are wondrous. The food is more fun than time with family might be, or so Bethany hoped as another year approached. Sadly, in truth, during the winter solstice she felt more alone than she ever did. No matter the trials and tribulations, the gift of a shared experience means more than any other event might.
Science and food could not, did not, and would never suffice for what she sacrificed. Those the little bit of a being was closest to were a greater source of solace than what she, a bulimic labeled nourishment. Nature, in the form of ingested plant or animal products, does not nurture a starved soul. A satiated stomach could not compare to a heart filled with joy.
Happy Holidays, Merry Christmas, a Joyous Kwanzaa, a regal Ramadan, none would be as long as Bethany remained bulimic. If only emotions, epidemiology, and the effects of these could be as easily understood as the study of food.
Dear reader, you may wish to peruse Chapters One through Seven. Please do. These reflective diaries discuss my life as an anorexic, bulimic, a person.
Or Similar Discussions . . .