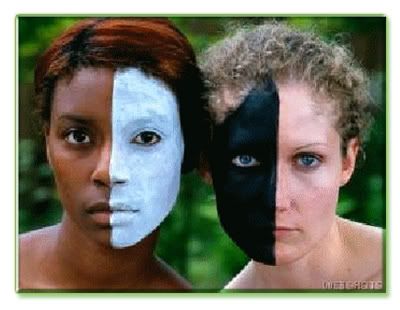 copyright © 2007 Betsy L. Angert
I, as a white person mourn on this day, for every man and woman Black, white, brown, red, or yellow are my brethren. I feel the pain of all those that have gone before me. My heart aches most for those whose flesh is darkest. It seems, try as they might Afro-Americans can never escape the bondage, the bigotry that enslaves them. The color of their skin shades their every encounter. I recognize that only days ago, in this duplicitous land founded on the principles of freedom and justice for all, segregation was again endorsed by the highest Court in the country. The Supreme Court ruled "Schools can't use race to assign students." History demonstrates, left to their own devices whites will not desegregate.
On this Independence Day, I grieve. I do not celebrate. I will not shop with abandon. Nor will I partake in viewing firework displays. A pleasurable picnic on this date seems disingenuous. The truth of what is in America is a burden I bear. I ponder the present, and I pronounce; on this Independence Day, all Americans are not free.
Today, the streets of these United States, are not paved in gold. Opportunities are not available to all. Those whose flesh is white are not pure and principled, although they may think themselves to be.
With one hand, whites extend an invitation to share in the delight of liberty. With the other, they cast the call aside.
African-Americans, those brought to the shores of this independent nation, and their progeny do not profit from a fight for freedom. Glory was not and is not given to our slave soldiers or their offspring. Our Black brothers and sisters serve this nation; however, few reap the rewards of freedom.
Granted some scant number of African-Americans have done well. White persons witness the success of the few Blacks and claim these illustrate the norm. However, they do not. Nonetheless, many of our Americans of African decent, are mired in misery.
White Americans may say this is not so. They may argue Brown versus Board of Education was a milestone that benefits millions. Yet, that law, according to Justice Stephen Breyer was reversed on June 28, 2007. Speaking on the decision Parents Involved In Community Schools versus Seattle School District Number 1 this Supreme Court jurist stated

In his written opinion, Justice Breyer said the decision was a "radical" step away from settled law and would strip local communities of the tools they need, and have used for many years, to prevent resegregation of their public schools. Predicting that the ruling would substitute for present calm a disruptive round of race-related litigation, he said, This is a decision that the court and the nation will come to regret.
Caucasian citizens contend Affirmative Action laws righted the centuries of wrongdoing. Yet, dark-skinned Americans dispute this assertion. Whites work to rescind these laws.
I would hope no one would think the Voters Rights Act is evidence that Blacks people have equal rights in America. Any Bill that must be revisited and renewed regularly, does not provide for the people it professes to serve. I believe it shameful that in the land of the free, Black citizens were not given the right to vote without restrictions until 1965! To think that years later this law was threatened. I have no words for such an injustice. I can only ruminate. As we "celebrate" this day of independence we must ask, are all our people free.
While light skin lovelies think all is well; we now live in a colorblind society, down deep, they know that is not true.
Ask a person of pale complexion to drive to the area of town known as the Black ghetto, or the slums. Then you will witness an unspoken acknowledgement, independence, freedom, and justice were not afforded to Black Americans.
Years ago, I was teaching a summer class at a major University. The esteemed educational institution is located in so-called liberal Southern California. Only seven students enrolled. The learning environment was ideal. Discussions were deep and endless. During the course of this seminar, we spoke of graffiti, and the related art and history of tagging. We also chatted about what is considered a historic monument, the Watts Towers.
In my youth, while living thousands of miles from Los Angeles and its surrounding cities, I saw many a slide and photograph of this structure. I marveled as I observed the 17 separate sculptural pieces built by hand on a residential lot, owned by immigrant Simon Rodia. Mister Rodia was, for me, an artist to admire. Upon moving to the area, I immediately sought out this edifice.
Frequently, in my first year as a California resident, I drove to Watts. I toured the Towers. I rambled around the park and the surrounding neighborhood. I delighted in the experience. I mentioned this to the adult students I sat with. Then one afternoon, the group requested we plan a field trip. "Let us travel together and explore Rodia's masterpiece.? I asked if they were sure they wanted to see this site. None hesitated. Each expressed their excitement. I made the arrangements.
Realistically, I could not commute with the others. I was teaching at another University hours before our meeting. That campus was far from the other. Therefore, I needed to drive alone. The women carpooled.
The day was a joy. The students were thrilled. We befriended our guide, took photographs, and roamed the grounds for hours. We saw more than merely the Towers. We had fun.
Upon meeting again in class, I learned what I had not imagined. These seven young women were fearful prior to our trek. Driving in the inner city was a novel experience for each of them. Two women of Mexican heritage and the rest of European ancestry never dared drive on the streets of Watts before. The Compton area, in their minds was a Black compound. South Central was not on their maps.
Apparently, even the parents of a few of these ladies thought this travel was not wise. One father re-arranged his day so that he could "secretly" supervise his daughter?s descent into what he thought was certain oblivion.
It was not; nevertheless, in America Blacks are not considered as whites. They are purposely placed in separate enclaves. The few that "make it out" do so with dollars not easily acquired.
In our nation, where people are "created equal" and "all men are free," Black men between the ages of 16 and 24 are more than twice as likely than young white men to be out of school and out of work (National Center for Educational Statistics, 1997)

In 1999, median family income for Black Americans was still only $31,778, compared to $51,244 for Whites.
From 1989 to 1998, Black American middle class families logged an average of 4,278 hours of work per year almost 500 more hours per year than White families.
In 1999, unemployment for Black Americans was 8%, compared to 3.7% for Whites.
Fewer than half (46%) of Black American households own their own homes, compared to the national average of 72% (Changing America, 1999).
Black American men earn 71 cents for every dollar earned by their White counterparts.
Unemployment rates for Black American youths are three times higher than the national average.
Over six million Black children (62%) live in single-parent households (U.S. Census Bureau, 1999).
Black children do not receive an equal education.

Research demonstrates that access to quality teaching is one of the most significant factors in improving student achievement and closing the achievement gap. Yet, poor and minority children have significantly less access to quality teaching.
Schools with the highest percentages of minority, limited-English proficient and low-income students are more likely to employ beginning teachers than those with the lowest percentage of minority, limited-English proficient and low-income students.
A significant body of research also has found that another indicator of teacher quality in middle and high school is whether teachers majored in the field in which they are teaching.

Here again, gaps are profound.

Classes in high-poverty schools are 77 percent more likely to be assigned to an out-of-field teacher than are classes in low-poverty schools. Classes in majority nonwhite schools are over 40 percent more likely to be assigned to an out of-field teacher than those in mostly White schools.

Level of academic attainment is another traditional indicator of teacher quality, and, again, teachers with master's degrees are less likely to teach in high-minority, low-income schools than they are to teach in high-income, low-minority schools.
Blacks in America do not have equal opportunities. The were not awarded the independence whites were in 1776. Even centuries later, individuals with dark complexion struggle to survive. Many live a life of poverty.

Nearly 1 out of every 4 Black Americans (24%) lives in poverty (U.S. Census Bureau, 2000).
3.5 million Black children (31%) live below the poverty level (U.S. Census Bureau, 2000).
Nine out of every ten Black Americans who reach age 75 spend at least one of their adult years in poverty (Cornell University, Washington University, 1999).
The poverty rate for Black Americans is three times the rate for White Americans (U.S. Census Bureau, 2000)
The Black experience in the United States of America is not one to be celebrated. For most, if not all, Afro-Americans in this nation can recall stories, personal anecdotes that affirm they are not free. Independence was not won nor was it awarded to them. Thousands of Blacks fought for freedom in Revolutionary War. Remember, among the first persons shot in the name of freedom from the oppressive powers of King George, of England was Crispus Attucks.

A stranger to Boston, he was leading a march against the Townshend Acts when the killing occurred.
Yet, Attucks and those Americans of African heritage that followed him did not realize the fruits of freedom. The Civil War, a battle fought to end slavery only served to enslave Black Americans in a more subtle manner. Afro-Americans are arguably not truly free in 2007. Racial discrimination is rampant in the USA.
Frederick Douglass in 1852, delivered a speech that might be aptly delivered today.

"What to the American slave is your Fourth of July?

"At a time like this, scorching irony, not convincing argument, is needed. Oh! had I the ability, and could I reach the nation's ear, I would today pour out a fiery stream of biting ridicule, blasting reproach, withering sarcasm, and stern rebuke. For it is not light that is needed, but fire; it is not the gentle shower, but thunder. We need the storm, the whirlwind, and the earthquake. The feeling of the nation must be quickened; the conscience of the nation must be roused; the propriety of the nation must be startled; the hypocrisy of the nation must be exposed; and its crimes against God and man must be denounced.

What to the American slave is your Fourth of July? I answer, a day that reveals to him more than all other days of the year, the gross injustice and cruelty to which he is the constant victim. To him your celebration is a sham; your boasted liberty an unholy license; your national greatness, swelling vanity; your sounds of rejoicing are empty and heartless; your shouts of liberty and equality, hollow mock; your prayers and hymns, your sermons and thanksgivings, with all your religious parade and solemnity, are to him mere bombast, fraud, deception, impiety, and hypocrisy – a thin veil to cover up crimes which would disgrace a nation of savages. There is not a nation of the earth guilty of practices more shocking and bloody than are the people of these United States at this very hour.

Go search where you will, roam through all the monarchies and despotisms of the Old World, travel through South America, search out every abuse and when you have found the last, lay your facts by the side of the everyday practices of this nation, and you will say with me that, for revolting barbarity and shameless hypocrisy, America reigns without a rival."
America as a nation may have reason to celebrate their independence. Sadly, all the people that reside here do not. Blacks, reds, browns, and yellows are not all free. Afro-Americans, more than any other group suffer at the hands of those that scream the loudest, "Happy Fourth of July." "Happy Independence Day." The question must be asked again and again, For whom?
Independence Day Fireworks and Findings . . .