copyright © 2007 Possum Tales. Sedalia Tales
Storytelling is a fine art in the part of the country where I was raised. We often visit those same places in our travels today. Tall tales are told in various events often called a "Liars Contest." The stories are most often told in the first person and are very often either humorous or scary. Most stories are passed down from one teller to the other by the oral tradition. Many of the stories also had some moral or philosophical teaching attached to the tale. Most of the ones in my memory had something to do with animals like the family story about my grandfather and the mule. What follows is a traditional story heard in recent days at a music festival in West Virginia. The story was told by a contestant in the Liars Contest at the festival. Follow over the fold and down the trail to Possum Valley for another tale from possum and his friends.
The possum family travels at regular intervals to various points mostly inside the United States. One recent trek took us to California just about 30 miles inland from the ocean in a mountainous part of southern California. We stayed in a small cabin as part of a larger contingent of folk attending a convention of sorts at the site.
One morning I took it upon myself to take a walk for health and refreshment. Trails led from the back of the convention site into a large forested area. The first sight along the trail was a bulletin board with various rules and regulations for the forest. In the middle of the postings was a computer generated picture of a mountain lion with the warning: MOUNTAIN LIONS SIGHTED IN THIS AREA.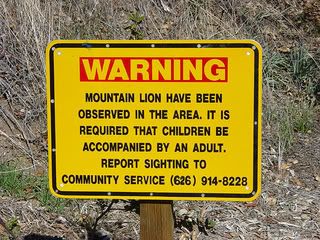 hacker, Flickr, Creative Commons
The poster went on to suggest actions one should take in case of face-to-face confrontation with a mountain lion.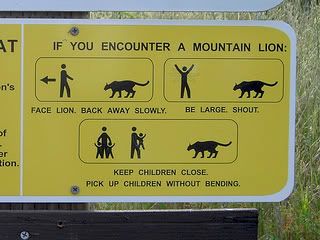 alexstaubo, Flickr, Creative Commons
The first thing to do is to make one's self look as large as possible. Well, that is pretty tough for a guy like me who as a teen could turn sideways and hide behind a small sapling. Time has expanded the girth a bit, but not so much as to be very noticeable.
The second recommendation is look the animal right in the eye. "Stare with focus and intensity," the sign said. OK, that seemed like a fine idea and one that could be managed without real difficulty.
Last, but not least, move backward away from the mountain lion. Well, for a change there was some real sense in this thing. Moving away with all alacrity seemed to me to be a reasonable idea, but the sign suggested moving slowly. Food for thought I thought.
I took the trek in spite of the warnings thinking that this was too beautiful a day to be in any sort of danger at all. The trail twisted and turned along a mountain ridge. The river could be heard not far away down the slope. Just around one turn I came face to face with the world's biggest, meanest, fangs hanging down, saliva dripping, chipmunk.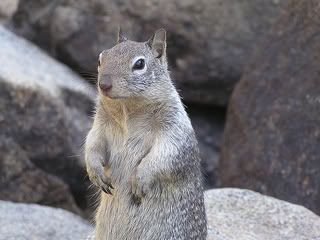 ogwen, Flickr, Creative Commons
And right behind that chipmunk was the world's biggest, meanest, fangs hanging down, mountain lion ever seen in those parts.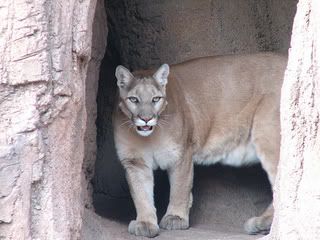 guppiecat, Flickr, Creative Commons
That mountain lion took one look at me and must have thought to himself that here was a better breakfast than one little chipmunk. As soon as that chipmunk saw the mountain lion looking at me, he took advantage of the situation and headed off into the underbrush alongside the trail.
I thought of the poster back at the beginning of the trail, lifted my T-shirt and tried to look as big as possible. The effect was more of one large pop tart than of any real threat to the mountain lion. He continue to stare while I stared back and tried to back away slowly. All the while my mind was whirring with ways to end this standoff without my ending my days on this earth.
A vision of Tarzan came to mind. Whenever a lion attacked Tarzan, he ducked down under the leaping cat, reached up and grabbed the lion in midair, twisted him around and caught the animal in a full Nelson over his shoulder. The technique always seemed to work for Tarzan so why not for me? Now just remember that large pop tart and think how afraid you'd be if a pop tart attacked you in the kitchen one morning before breakfast.
The mountain lion soon tired of staring and leapt. I ducked down, reached up and caught the creature in midair, twisted him around, and caught him in a full Nelson over my right shoulder. There we stood. The mountain lion was restrained, but was beginning to be pretty unhappy at his circumstance. The situation was not helped one little bit by the presence of the chipmunk who had returned to say, "Nanny, nanny, boo-boo" to the mountain lion.
My mind continued to whirl. What was I going to do with a live and angry mountain lion? I could not let him loose for fear of another attack nor could I hold him this way for very long. Suddenly inspiration struck like a lightning bolt. I was once a preacher. For several years I delivered a sermon every Sunday. I learned people were affected one of two ways by such sermons. Either they were saved or they went to sleep. I began to preach with all my might. Pretty soon that mountain lion was sound asleep and snoring.
That brought a new dilemma–what to do with a sleeping mountain lion? I was afraid to put him down for fear he'd wake up and attack again. I could not hold him forever either. The idea of a baptism came to mind. After all if he were saved he might just begin to find a new way of life and not attack me after all.
Off to the river I headed. Now my preaching was in a church that sprinkled folk, but I didn't really know about the lion. I thought he might be from a different line of thinking and maybe a real dunking would be a better way to go. We reached the river and I waded in. I dunked that mountain lion right under the water. When we came up for air he was mighty miffed. In fact that wet cat was downright angry all over again. I had forgotten how much cats dislike water.
Then I remembered that cats have nine lives. That meant he needed to be baptized nine times to save all of his lives. Back to dunking I went. We dunked about seven or eight times when a voice from the bank rang out, "Unhand that mountain lion!" On the bank was this vision of long golden hair in the sunlight. Closer examination revealed a woman wearing a uniform. She held out a wallet with a badge and underneath fell a foldout of various membership and identification cards. She was an officer of the California Department of Natural Resources and a card carrying member of the Audubon Society, the Tea Drinkers of America, Yogurt Consumers Association, and about a dozen other nature and natural resource societies.
Without even thinking about what I was doing I let loose that wet and angry cat. He went off to the right toward the bank while I headed to the left. That was the last either the mountain lion or I saw of each other. And that is the end of this tale.
Moral: Experience is what you get most often just after you needed it.