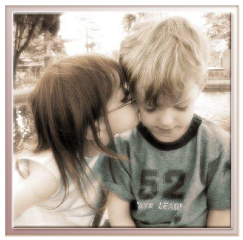 copyright © 2008 Betsy L. Angert
We met in December. The year was 2007. He was a friend of my cousin's. The two were best of buds; they still are. Cousin Paul has known James for decades. Jim moved to my hometown only months earlier. He felt alone. James longed for a friend, locally. Paul introduced us on the Internet. After my relative played the mediator, the man in the middle, the means for a message, he asked if he might share our electronic mail addresses. James and I each consented, and from then on, we exchanged epistles directly.
In letters, we liked each other. Admittedly, for us, the electronic medium was limited. We decided to share a drink together; although I let him know, I only imbibe water. James said that was not a problem. We arranged to get together at Starbucks. The coffee shop was near to his home and mine. Neither of us wished to share where we lived exactly. We were hesitant, cautious, or just not willing to chance the unknown.
Today, speed dates are popular. For some, a minute or two is more than enough to determine whether he or she is the "one." Some believe in love at first sight. They know immediately when Miss or Mister Right walks through the door. From across a crowded room eyes meet, sparks fly; for many providence steps in. Cupid's arrows are manifest destiny.
A gallant gent may meet a genteel girl and the two will gallivant forever. If a lady were to encounter a extraordinary lad in the last month of the year, by Valentine's Day, perchance the two would be wed. That is unless she eats garlic onions, or spicy foods.
James enjoyed our first encounter. He took pleasure in our later luncheon. My cousin's best friend looked forward to our every conversation. The more we chatted the more he longed to converse, connect, and commune in every way possible. This fine fellow spoke of copulation often. While he had been with others at the time of our introduction, he did not feel as close to them as he did to me. James spoke of our shared energy, enthusiasm, interests, and the excitement he felt in my presence. Nonetheless, one day, as he readied to rally at my home he decided he could not do it.
The smell of my well-seasoned skin was just too much for this lovable man. James diet is bland in comparison to mine. He did not wish to tell me I could not dine as I do. He did not wish to end our relationship per se; James just needed to create a physical distance. All the while, he reminded me of how much he loved me and always will. Certain he did not want to think of a time when we would not be emotionally together, James concluded, at least for a time, he needed to occupy a separate physical space. Perhaps, we could see each other and just not share a repast.
In the Twenty-First Century, the dynamics of dating are more complex. People are sensitive. The personal preferences of one person may offend another. Individuals are vocal.


Sharing meals has always been an important courtship ritual and a metaphor for love. But in an age when many people define themselves by what they will eat and what they won't, dietary differences can put a strain on a romantic relationship. The culinary camps have become so balkanized that some factions consider interdietary dating taboo.

No-holds-barred carnivores, for example, may share the view of Anthony Bourdain, who wrote in his book "Kitchen Confidential" that "vegetarians, and their Hezbollah-like splinter faction, the vegans … are the enemy of everything good and decent in the human spirit."

Returning the compliment, many vegetarians say they cannot date anyone who eats meat. Vegans, who avoid eating not just animals but animal-derived products, take it further, shivering at the thought of kissing someone who has even sipped honey-sweetened tea.

Ben Abdalla, 42, a real estate agent in Boca Raton, Fla., said he preferred to date fellow vegetarians because meat eaters smell bad and have low energy.
No matter how delightful a mate may be, if she eats meat, or finds a meal of fish repugnant a male suitor may not pursue her. If a woman thinks a man prefers a menu that is ethically loathsome, she will say so. Even those trained to understand, may not empathize at all.


Lisa Romano, 31, a vegan and school psychologist in Belleville, N.Y., said she recently ended a relationship with a man who enjoyed backyard grilling. He had no problem searing her vegan burgers alongside his beef patties, but she found the practice unenlightened and disturbing.

Her disapproval "would have become an issue later even if it wasn't in the beginning," Ms. Romano said. "I need someone who is ethically on the same page."

While some eaters may elevate morality above hedonism, others are suspicious of anyone who does not give in to the pleasure principle.


James did not quibble with my decision to avoid caffeine or alcohol. He did not question my desire to shun sugars. It made sense to this sweet man that I do not dine on meat, fish, chicken, or potatoes. James did not find fault with my wish to preclude processed foods from my diet. I did not consider his choices flawed. For me, people eat as they do. I delight in my entrees and worry not of what others consume. I understand change comes from within. I have no desire to transform another; nor do I wish to be converted.


As with other differences couples face, tolerance and compromise are essential at the dinner table, marital therapists said. "If you can't allow your partner to have latitude in what he or she eats, then maybe your problem isn't about food," said Susan Jaffe, a psychiatrist in Manhattan.

Dynise Balcavage, 42, an associate creative director at an advertising agency and vegan who lives in Philadelphia, said she has been happily married to her omnivorous husband, John Gatti, 53, for seven years.

"We have this little dance we've choreographed in the kitchen," she said. She prepares vegan meals and averts her eyes when he adds anchovies or cheese. And she does not show disapproval when he orders meat in a restaurant.

"I'm not a vegangelical," she said. "He's an adult and I respect his choices just as he respects mine."
In a former relationship, Eric and I were as Dynise Balcavage and John Gatti are. Never once was food an issue. I cooked meat for Eric with little hesitation. Admittedly, I would pay more for chicken parts. I could not bring myself to cut into the flesh and bone of one of G-d's creatures. When liver was prepared, I could not season the slices. In truth, my eyes could not gaze upon the bloody organ. Eric would place the animal protein in the bag I prepared with flour and spices. Then, he would lay the organ into the heated pan. Only after the meat was seared, could I continue to cook the "delicacy."
However, while I do not define myself by what I eat, I can no longer look at animal flesh on a plate and feel the same emotional distance I once did. While I still do not struggle with what another ingests, I do not believe that I would be so willing to bake, broil, or boil a bird, cook or carve a piece of beef, slice or dice a chop of pork. Perhaps, I have changed, even if ever so slightly.
I cannot be certain whether trends transform a person, age alters an individual, or if experience hardens hearts. Perhaps, ancient hurts hinder us. In an era where divorce defines the population, people have become more discriminating. James was married twice. I am the daughter of divorced parents. In America today, our experiences are common and likely shape us. The subtle nuances of companionship possibly affect the stomach and the nose..
Children watch Mom and Dad coo, only to see them separate. The pain of parents parting can cause a stomachache. Teens remember when their parents were romantic, rather than full of rage when together. As an adolescent reflects on unity he or she ponders, 'This stinks!' Adults cannot forget the one who broke his or her spirit. Habits of lover were appreciated. Slowly, but surely, all that seemed beautiful left a lover nauseous. The scent of one who was adorned becomes a reminder of all that was lost. Closeness can be sickening. Smells and tastes are no longer savored.
Nonetheless, people wish to believe passion is pure, adoration is in the air, and that special someone is just around the corner. Hence, we look, and look, and hope to find our Valentine. Restaurateurs rely on the human desire to love and be loved.


Valentine's Day ranks second only to Mother's Day at restaurants.

"It's something that restaurants all over the country . . . look forward to," said Steve Chucri, president and CEO of the Arizona Restaurant Association.

Thirty-five percent of Americans dine out on Valentine's Day, close to the 38 percent on Mother's Day.

Of those who dine out, 80 percent pay an average bill of $62. The remaining 20 percent spent more than $100 in 2006, the most recent year for which figures are available, according to Sherry Gillespie, the association's marketing manager.

Those spending $62 are paying $20 or $25 more than usual, Chucri said.

"I think people go out and spend more because they enjoy the day," he said. "They might get that bottle of wine instead of a glass of wine. Or they might get an appetizer and a dessert."
Pleasure or the want of it can be blissful. James and I experienced that from the first. The conversation, started and stayed interesting. We were authentically animated. He thinks I am saucy and sweet, but perhaps a bit too spicy. Like or unlike millions, James does not revel in the smell of natural seasoning. At one point he explained, "I think you are great. I enjoy your company. I yearn to be with you and would be if only you would stop eating garlic, onions, and spicy foods for three days."
While intellectually James does not object to my nutritional regime or my being as I am, his stomach and nose struggle to follow his fondness. Delicate scents do not disguise the aroma of peppers. A bouquet of cologne does not cover the odor of onions. From food to fragrances, friendships are fragile.


Perfume has long been an aphrodisiac decanted sparingly from an iconic glass bottle. But for Leslie Ware, a fashion editor at a quarterly magazine in Huntsville, Ala., fragrance has worked its magic in the opposite direction, as a romantic deal breaker.

Several years ago, Ms. Ware was engaged to a gentleman who did not like Trish McEvoy 9, the fruity vanilla blend she had been wearing for seven years.

"He thought I smelled like a traveling carnival, the kind where they sell corn dogs, because I guess the smell was reminiscent of cotton candy," Ms. Ware, 28, said. "This was the demise of Trish No. 9."

It was a bad omen.

Soon after, Ms. Ware said she broke up with the perfume-averse boyfriend. She has not worn fragrance since.

A more recent boyfriend fared no better after he bought Ms. Ware what she called "an old-lady perfume" against her wishes.

"It made me mad," she said. "I told him not to bother buying me fragrance since I am picky, and now I have a $125 bottle of perfume sitting in a closet."
Just as stomachs lead many men, and women, noses help navigate these same individuals through the maze of ardor. When we wish to give to one we love, money is no object. The cost of the gift does not deter a admirer. Nor does the price impress the person who receives a present. There is much to love, and more to learn if we wish to create a bond that lasts.
This Valentine's eve women will not douse themselves in fragrances and men will be reminded not to buy perfumes as they did in the past. Colognes and toilette water are not collected as they were years ago.


[M]ore women are forgoing scent altogether. Last year, about 15 percent of women said they did not wear fragrance, up from 13 percent in 2003, according to a survey of 9,800 women conducted by NPD.

"That may sound like a small number, but nationally that translates into two million more women who are saying 'I don't wear fragrance,' " said Karen Grant, the senior beauty industry analyst at NPD. "Eighty-five percent of women are still buying fragrance, but an increasing number tell us they are wearing fewer scents, less frequently or not at all."

Fragrance fatigue is probably inevitable, with heavily fruited scents wafting out of everything from dishwashing liquids to hotel linens to candle displays at the mall. But perfume aversion seems to be tapping into a larger societal phenomenon that may have its origins in bans on cellphones and cigarettes: the idea that the collective demands of the public space trump one's personal space.

"People are shying away from fragrances not for the traditional reasons that you'd expect, that it is too expensive or that they are wearing alternative products like body sprays or lotions," Ms. Grant said. "Many people said it bothers them that fragrance has an effect on other people, that they are trying to be considerate by not overcoming others with scent."

Indeed, Rochelle R. Bloom, the president of the Fragrance Foundation, an industry trade group, said that people who worry that their fragrance may offend others simply may be wearing perfume improperly.
It is not difficult to hurt the feelings of another. People are sensitive souls. Stomachs ache. Noses run. Hearts hurt. Cupid's arrows are curved; however, they can be straightened.


But sometimes couples can reach olfactory accord. Last fall, Robert Flood, a retired technology platform tester in Allen, Tex., worried how to tell his wife of 25 years, Amy, that he could not abide her new perfume, Elizabeth Taylor's Passion.

"It was very atrocious, at least to me," Mr. Flood, 52, said in a phone interview last week.

The couple later worked out a compromise so that he would not be discomfited should her scent again stray into his air space. Henceforth, each will choose a fragrance for the other to wear.

"On Valentine's Day, we will go to one of her favorite stores and she will buy me English Leather and I will buy her Jean Naté, which is the fragrance she was wearing when we had just met and she was 17 going on 18," Mr. Flood said. "We are not smelling the perfume so much as the memories."

Indeed, for the Floods, fragrance brings with it the Proustian power of recall. One could argue that those who forgo perfume now may inadvertently diminish at some future date the textural memories of relationships past.
Perchance, passion is more than a perfume or a pound of flesh. Spice may not be the cumin poured into the curried dish. The flavors that create true fondness are not found in the pantry or the powder room. The zest and zing that brings zeal into a relationship does not originate during a meal. A scent will not make heartstrings sing.
If two are to enjoy as one they must be responsive and receptive to what is not visible to the eye or smelled by the snout. Memories made and remembered satiate more than a stomach and flood more than a muzzle. This Valentine's Day may be the time to steam sweet nothings and sniff a bit of fresh air. Hugs, kisses, and Happy Valentine's Day.
Sweetness and Spice Sources . . .