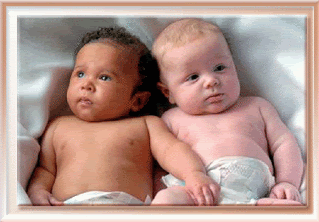 copyright © 2008 Betsy L. Angert
It's never been my interest to run a race-based campaign.

My message has always been that I want everyone included in a broad coalition to bring about change.

I want to spend more time talking about solving the problems that people are feeling right now.

~ Barack Obama [United States Senator and Presidential Aspirant. January 27, 2008]
In any Presidential election year, we hear of the race. Yet, discussions of "race" are void, or are since a truce was tendered. Americas would like to think of themselves as colorblind. We are not. Citizens of this country embrace "colormuteness, a term coined by Mica Pollock, Associate Professor of Education at Harvard University. What Professor Pollock observes in classrooms and in the hallways of schools throughout the nation occurs each day on the campaign trail. Children who wish to achieve excellence in the classroom are restricted by conventions they learned at an early age in our nation's communities.
When a young Caucasian child encounters a Black being, if they have never seen a person with a dark complexion, he or she may point, tug at the a parent's trouser, point, and say, "Mom, Why is his skin so brown?" A lass might inquisitively exclaim, "Daddy, What is wrong with her complexion? Characteristically, Mother or Father will say, "Shush! It is not polite to point." Then the parent will pass on the message that they learned at their parent's knee. That communication will vary dependent on the family. Nonetheless, what is true, no matter who the guardian might be, the tone will be hushed. The tot will learn, we do not discuss the differences in skin tone or facial features.
What we were taught in our youth resonates in adult life. We see it on the campaign trail. Certain topics are acceptable and the one is forbidden. This etiquette is evident in our most recent election. Criticism is fine, as long as we do not broach the single most sensitive subject, "race," as it relates to the color of one's skin.
Candidates compete as they sprint towards the White House. They rack up the votes, and rail against their rivals. As Presidential hopefuls run for the Oval Office, they find themselves embroiled in discordant campaigns. Whatever they might say, the electorate will react. A delicate balance must be maintained.
Attack advertisements will fill the airwaves. Hurdles will be jumped in an attempt to make an opponent look or sound bad. The war veteran is no hero, and the soldier who stayed behind did not truly serve. In cyberspace, the calculations are conventional. The conversation can be extremely cruel. Religion will rule if he or she becomes President. His or her faith is not "right." His wife, her husband is [fill in the blank.] Can a damsel deliver as Commander-In-Chief, or will a drama result in her distress. However, the question that is addressed tentatively is, "Is America ready for a Black President?"
Americans are intimately familiar with the scandals. Constituents have witnessed what a little gossip can do. Within each campaign, people observe divisiveness. The demise of a fellow Democrat is fine. A rival Republican can ridicule another with reason. All is fair in love and war. While an aspirant may be fond of Party loyalty, in a Presidential campaign, faithfulness and friendship are not generously applied to adversaries. It is important to focus on differences if a candidate wishes to be the nominee for his or her Party, as long as the variation in skin color is not mentioned.
Our countrymen think it vital to understand Mitt Romney is a Mormon. The public believes it is important to contemplate, Mike Huckabee is a Preacher. It is grand that Hillary Clinton is a woman, but do we need to say aloud, Barack Obama is Black.
Sure, the words are said and the response is consistent. "It should not make a difference." Yet, it does. No one wishes to be labeled a bigot. As adults, individuals recall what their parents said, "African-Americans are people too," or one would hope they were thought to be in the United States. Still, each citizen of this country understands, Black people fight for parity. Even when conditions and circumstances improve for African-Americans, a few thrive, most struggle to survive.
Our Constitution claims "all men are created equal." However, in the States it seems that has never been the case. While Americans are proud of the fact that finally they can choose to vote for someone who is not white, they do not wish to speak of "race," only of the race. Ah, how well-trained Americans are.
Supposedly, citizens have progressed beyond our repressive roots. However, in truth, racism is rampant. Just as Americans have done in past Presidential election years, and do each day of our existence, we place one "race" above another.
Being Black in the United States is a topic discussed among those who are, and balked at by persons who rather believe themselves without bias. Carefully colormuted Caucasians do not wish to admit that that the sight of a dark skinned person can cause them to tightly clutch the pocketbook that hung loosely at their side. Anglos do not wish to confess that they feel an the urge to clench a fist, or place keys between their fingers, just in case they need to use the pieces of metal as a weapon when in the presence of a person whose complexion is a purplish-brown.
Few white individuals will tell of how they tremble when near an African-American stranger. Fortunately, many need not think of what they might do if a Black individual was near. In the United States, numerous neighborhoods are segregated, sometimes subtly, often overtly.


"Is it true that "Anna" stands for "Ain't No N*gg*rs Allowed?" I asked at the convenience store in Anna, Illinois, where I had stopped to buy coffee.

"Yes," the clerk replied. "That's sad, isn't it," she added, distancing herself from the policy. And she went on to assure me, "That all happened a long time ago."

"I understand [racial exclusion] is still going on?" I asked.

"Yes," she replied. "That's sad."

~ conversation with clerk, Anna, Illinois, October, 2001

Anna is a town of about 7,000 people, including adjoining Jonesboro. The twin towns lie about 35 miles north of Cairo, in Southern Illinois. In 1909, in the aftermath of a horrific nearby "spectacle lynching," Anna and Jonesboro expelled their African Americans. Both cities have been all-white ever since. Nearly a century later, "Anna" is still considered by its residents and by citizens of nearby towns to mean "Ain't No N*gge*s Allowed," the acronym the convenience store clerk confirmed in 2001.

It is common knowledge that African Americans are not allowed to live in Anna, except for residents of the state mental hospital and transients at its two motels. African Americans who find themselves in Anna and Jonesboro after dark – the majority-black basketball team from Cairo, for example – have been treated badly by residents of the towns and by fans and students of Anna-Jonesboro High School.

Towns like Anna and Jonesboro are often called "sundown towns," owing to the signs that many of them formerly sported at their corporate limits – signs that usually said, "N*gge*r, Don't Let The Sun Go Down On You In __." Anna-Jonesboro had such signs on Highway 127 as recently as the 1970s. In some areas, these communities were known as "sunset towns" and, in the Ozarks, "gray towns." In the East, although many communities excluded African Americans, the term "sundown town" itself was rarely used. Residents of all-white suburbs also usually avoided the term, though not the policy. . .

The overlooking of sundown towns, stands in sharp contrast to the attention bestowed upon that other violent and extralegal race relations practice, lynching. The literature on lynching is vast, encompassing at least 500 and perhaps thousands of volumes; at this point, we have at least one book for every ten confirmed lynchings. Still the books keep coming; Amazon.com listed 126 for sale in 2004.

Yet, lynchings have ceased in America. Sundown towns, on the other hand, continue to this day.
Nonetheless, the threat of such an act looms large in the United States. In the enlightened era of the Twenty-First century, Americans have discussed or dismissed the appearance of nooses throughout our homeland. More than a year passed before the mainstream media reported on the appearance of three nooses hung on a tree in Jena, Louisiana. Naturally, the incident was said to be a Southern phenomenon. However, weeks after a march on the city, in support of Civil Rights, another hangman's rope was displayed on the office door of a Black faculty member at the Teachers College at Columbia University. At a prestigious, Northern educational institution of higher learning, Americans were subject to lessons from the past. In this nation, Blacks, regardless of their economic status, or social stature are not safe; nor are they respected as peers.
Granted, the goodly among us will state as Lee C. Bollinger, President of Columbia University, declared, "This is an assault on African-Americans and therefore it is an assault on every one of us;" however, unless we speak of the unmentionable, those not victim to an attack, cannot imagine the wounds. Niceties do not heal the invisible and deep scars. Wounds are easily opened for they were never attended to. Colorblind as Caucasians allege to be, they are not cured of the ills of prejudice.
Only weeks ago, Americans again observed how easily we move from the topic of racial discrimination to decrees of settlement. No harm done, no words of division will be uttered. The offender and the offended do not discuss inequity, injustice, insults, and intolerance; the reality of race relations is left behind. School grounds, the campaign scene, and the world of sports are as the streets of America, battlegrounds for bigotry. Yet, in each of these venues, participants replace the actual topic with another. Apologies suffice. Our parents would be proud. Americans can admit when they are wrong and move on, or pretend to.


When Golf Channel commentator Kelly Tilghman joked on-air during the second round of the Mercedes-Benz Championship that ambitious young players should "lynch (Tiger Woods) in a back alley," she set off yet another incidence of the stagecraft that passes for racial discourse in this country, with a tragic moment followed by the requisite scenes of accusation, remorse and demands for the protagonist's head, all backed by a chorus of conflicting voices echoing to the rafters.

There were plenty of soliloquies but distressingly little dialogue and no catharsis. For her part Tilghman was held accountable through a public scolding by the punditocracy and a two-week suspension by her employer; but for me, there's another, far more interesting character in this drama – Tiger Woods. . . .

Whether Woods likes it or not, the episode serves to remind him, and everyone else, that regardless of how he attempts to transcend race with his accomplishments on the golf course, he can never fully escape his status as a person of color.

Much the way the fried-chicken-and-collard-greens joke Fuzzy Zoeller made at the 1997 Masters pushed Woods into the role of African-American Golfer, Tilghman's gaffe reinforces his heritage and its burdens, lumping Tiger in with the estimated 5,000 men who were lynched in America between Reconstruction and the Civil Rights movement of the '60s. . . .

For his part Tiger was quick to forgive and forget, saying through his agent, Mark Steinberg, that the incident was a "nonissue" and later releasing a statement that said, "Regardless of the choice of words used, we know unequivocally that there was no ill intent in her comments."
Rarely does the individual who delivers a racist epithet mean to offend. The child who points does not intend to hurt someone's feelings. The parent who speaks in hushed tones purposely attempts not to insult. For those raised in a world where in the privacy of a home, unkind comments in reference to people of color abound, such assertions seem sound. Empathy escapes those who are not victim to the wrath of whites.
Anglos do not understand how a seemingly innocent statement can slice an African-American to the core.
To suggest that a successful Black man might need to be put in his place, or lynched, is to acknowledge a truth that is always apparent to an African-American gentleman or lady. A dark-brown-complexioned person who is perceived as one who does not know his or her station can expect to be reminded regularly, he or she is not equal to whites.
Decidedly, a dark-skin man or woman may do well in school or in the work place. A gentleman or a lovely lady may excel beyond all belief. A few elite Afro-Americans might be invited to live among Caucasians in an all white neighborhood, even in a Sundown Town. A token or two is always welcome. One with fame, fortune, and finesse may actually be appreciated. After all, a community must make a good impression. No locality would wish to be labeled intolerant, just as a parent, or child, does not desire to discriminate aloud. Consider cities in the Northern region of the United States. These humble townships have long maintained a noble image, false as it maybe.


Outside the traditional South-states historically dominated by slavery, where sundown towns are rare-probably a majority of all incorporated places kept out African Americans. . . .

Ironically, the traditional South has almost no sundown towns. Mississippi, for instance, has no more than 6, mostly mere hamlets, while Illinois has no fewer than 456.
Appearances are a lovely illusion. Indeed, the presence of a Black person in a white world can be wrought with peril. Driving While Black is a common crime. Even so, in an automobile, there is some protection for the brownish-purple complexioned person passing through a predominantly Anglo section of town. If a Black man, or women, were to walk alone in an alley, in an affluent area, or in a slum, unaccompanied by an entourage, his or her life could be in danger. Tiger Woods, [Michel Jordan, Denzel Washington, Venus and Serena Williams,] in casual clothes, without the cameras, or a gold plated golf club to identify him, could easily become a casualty of racial chauvinism. Anglos, when alone or amongst an allied group of racists, are not colorblind. Nor are they colormuted. Whites will see, and say, as they truly believe. Indeed, if a successful man or woman, whose facial features, and color, are not characteristic of a Caucasian, they may well find themselves in a position to be attacked. In all likelihood, a Black person will be assaulted.
At times, the barbs will be verbal. On occasion, physical jabs will be offered. Perchance, a Black person may suffer a slight. Most who react to 'race' are subtle in their approach. However, it is rare when a white American does not express the bias that has been building for centuries sooner or later. What simmers and stews within eventually will come to a boil. The pain that hate gives rise to will spill out. As a culture, when we pretend to be colorblind, and act on colormutedness, we give no air to what is real. Racism has caused us to rot from within.
Intellectually, Anglos know that to diminish the worth of those whose complexion is a brownish-black, to scorn or snub an African-American merely because their appearance is considered less "acceptable," or to suggest that someone of color might be lynched is outrageous. Yet, as long as Americans refuse to acknowledged the roots of racism, and recognize their own bigotry, intolerance will flourish. If conversations are hushed, as they have been in this year alone, what we have witnessed will continue to burgeon.
Within days of the Tilghman incident, Golf Week Magazine glorified the schism. The sportscaster and her employer were the cover story or were meant to be. So much for these intentions, be they ill-willed or wise.


Golfweek Noose Elicits Strong Reaction

By Doug Ferguson

The Associated Press

Friday, January 18, 2008; 12:18 AM

The editor of Golfweek magazine said he was overwhelmed by negative reaction to the photo of a noose on the cover of this week's issue, illustrating a story about the suspension of a Golf Channel anchor for using the word "lynch" in an on-air discussion about how to beat Tiger Woods.

"We knew that image would grab attention, but I didn't anticipate the enormity of it," Dave Seanor, vice president and editor of the weekly magazine, said from the PGA Merchandise Show in Orlando, Fla. . . .

"Look at the executive suites at the PGA Tour, or the USGA, or the PGA of America. There are very, very few people of color there," he said. "This is a situation in golf where there needs to be more dialogue. And when you get more dialogue, people don't want to hear it, and they brush it under the rug. This is a source of a lot of pushback." . . .

Asked if he regretted the cover, Seanor paused before answering.

"I wish we could have come up with something that made the same statement but didn't create as much negative reaction," he said. "But as this has unfolded, I'm glad there's dialogue. Let's talk about this, and the lack of diversity in golf."
Golfweek Editor Seanor may have thought the conversation vital; however, the mainstream, the average Joe and Joanna, the persons in power, and those who have none, would rather not discuss the disparity that envelops us. Remember, etiquette is essential. Colormuteness and colorblindness are cool. Those who do not heed these calls are not. Editor, Dave Seanor was replaced one day after a racially insensitive graphic, a noose, 'graced' the cover of Golfweek.
Any lack of compassion, when public, can cause quite a controversy. When the same deficit is subtle, there are few problems, that is, if the offender's skin is pinkish in color. This contrast is sharply evident in this election season, just as it was in Elementary School. Our Presidential candidates and political Parties, like Mom and Dad, endorse colorblindness and colormuteness. The electorate embraces a truce that prohibits colorful conversations.
When race relations are discussed, the Democrats wish to appear more compassionate than the Conservatives. While it may be a tad true that the Democrats did better for Black America than the Republicans have, still, every Administration since America became a nation, did not authentically embrace equality. The statistics, even when improvement is apparent, reveal an awful truth.


The Conservative Agenda: Serving African Americans?

By Tim Westrich and Amanda Logan

Center For American Progress

January 17, 2008

How have African Americans fared since conservatives have been in charge of the economy? Not very well. Their increases across key economic indicators have been slower under Bush as compared to the 1990s. Here's a look at the numbers:

African Americans' median income declined by an average of 1.6 percent per year under the current administration.

In 2006, African Americans' median income was $32,132, which is actually $2,603 lower than their median income of $34,735 (in 2006 dollars) in 2000. This is an annualized average growth rate of -1.6 percent. In contrast, this number increased at an annual average growth rate of 3.2 percent from 1992 to 2000. And African Americans' median income is still substantially lower than Whites: In 2006, their median income was $32,132, as compared to $52,432 for Whites.

Under Bush, the percent of African Americans without health insurance has increased from 18.5 percent to 20.5 percent.

In 2006, 7.9 million African Americans were not covered by health insurance. The rate of African Americans not covered by health insurance increased by an annual average percent point change of 0.30 between 2000 and 2006. This is a much different picture compared to the 1990s. From 1992 to 2000, the number of uninsured African Americans decreased from 20.1 percent to 18.5 percent, an average annual percent point change of -0.20.

The employment to population ratio for African Americans has declined faster than that of the Whites under the current administration.

In 2007, the employment to population ratio – the percentage of the civilian population that is employed-for African Americans stood at 58.4 percent compared to 63.6 percent for white Americans. Between 2000 and 2006, the employment to population ratio for African Americans declined by an average of – 0.4 percent each year after increasing by 0.8 percent on average between 1992 and 2000. The employed share of the African-American population grew faster than the employed share of the White population throughout the 1990s, but has shrunk faster than Whites since then.

The increase in African-American homeownership has been slower under Bush than the 1990s.

The homeownership rate for Whites increased three times faster than the homeownership rate for African Americans between 2000 and 2006. During this time, the homeownership rate for African Americans increased by an average annual growth rate of just 0.1, from 47.2 percent to 47.9 percent, whereas Whites' homeownership rate increased by an average annual growth rate of 0.3 percent. This trend is in part because African Americans have actually seen their rate decline since 2004. Compare this to the 1990s, when African Americans' homeownership rate increased by an average annual growth rate of 0.8 percent from 1994 to 2000. Whites' rate was 0.6 percent during this time (homeownership data by race are not available before 1994).

More African Americans are in poverty under Bush.

More African Americans were in poverty in 2006 than in 2000, just after we saw a vast improvement the 1990s. In 2006, 24.2 percent of African-American individuals were in poverty. Compare this to 2000, when 22.5 percent were below the poverty line, a percentage point change of 0.28. Poverty among African Americans decreased substantially from 1992 to 2000, going from 33.4 percent to 22.5 percent, or an annual average percent point change of -1.36.
The number of impoverished persons of color frequently increases. At times, it decreases. On occasion, it remains the same. Yet, no matter who is in the Oval Office, Americans worry less about the fact that the dark skinned among us are more likely to live in poorer neighborhoods. African-Americans are less likely to have adequate Health Care. Doctors discriminate.
Schools are segregated along racial lines. Citizens of this country understand that a person who lives on the wrong side of the railroad tracks is probably Black. Sundown Towns may have begun to allow Afro-Americans in; however, these persons better realize, they have their place. Dark-skin people are encouraged to believe they are powerless to create genuine change, and Anglo Americans like it that way.
There was hardly a rumble when the former First Lady, and Presidential aspirant explained, "Dr. King's dream began to be realized when President Lyndon Johnson passed the Civil Rights Act of 1964," Clinton continued. "It took a president to get it done." This statement seemed reasonable to those who have deterred the dreams within the Black community. Rival candidate, and Senator Obama softly declared the comment "unfortunate and ill-advised"; nonetheless, he too was willing to remain colorblind and colormute. A Black person knows better than to incite a riot. African-Americans, in the childhood are taught as well as whites.
In this country, citizens of all colors accept the truth and dare not drastically change it. It is for this reason the electorate is barely disturbed by statements from a former President, his aides, or allies. Even prominent Black Americans, grateful for small favors, and Presidential appointments, will stand by the side of a spouse and a former Commander-In-Chief when he states bigotry is believable and logical.


Voting for president along racial and gender lines "is understandable because people are proud when someone who they identify with emerges for the first time," the former president told a Charleston audience while campaigning for his wife. . . .

Bill Clinton said civil rights leaders Andrew Young and John Lewis have defended his wife. "They both said that Hillary was right, and the people who attacked her were wrong, and that she did not play the race card, but they did," he said. . . .

Clinton also told about 100 people in Charleston that he was proud of the Democratic Party for having a woman and a black candidate.
For the former President, colorblindness and colormuteness helped to heal a division that he now justifies. In America, racism, and chauvinism, are not only acceptable, these characteristics are considered a source of pride, and not a sign of prejudice. Americans would rather be smug [and self-important] than address the sad fact people are not treated equally.
However, the message is mixed. On one hand, the Clintons are prideful of the support they receive from the African-American population. On the other, the two Clinton's conclude Blacks will automatically congregate around their brethren. When people do not admit to the color they see and will not hear of it, there is ample confusion.
The puzzlement continues. As votes are tallied, the temptation is to discount a rival's win, or blame it on the color barrier, the one that supposedly does, or is it, does not exist. When a Presidential aspirant or her husband speaks of the race [to the White House], the implicit untouchable topic of "race," is tenderly tackled.


In Charleston [South Carolina, during the 2008 primaries] last week, Bill Clinton said, "They are getting votes, to be sure, because of their race or gender, and that's why people tell me that Hillary doesn't have a chance of winning here."
Again, Americans must decide, does a person's race make a difference? Can people of color perform miracles as an Anglo might? In this country, we still argue whether we have seen this occur in the past.
Hillary Clinton reminds white Americans of the accepted wisdom, even a great and honorable Black leader, such as Reverend, Doctor Martin Luther King Junior could not "get the job done." This prominent person of color needed the white man [or woman] in the White House to achieve what had never been accomplished before. Senator Clinton's words help cultivate the belief, a Caucasian, has the power to change the nation or make dreams come true. Americans cannot know with certainty if this is true for even as some select Black persons climb, the old adage is reinforced.


"Race doesn't matter!" the crowd at Obama's victory celebration in Columbia chanted last night, and when he spoke, the senator elaborated on the theme. He said his victory disproved those who argue that people "think, act and even vote within the categories that supposedly define us" — that blacks will not vote for a white candidate and vice versa.

"I did not travel around this state and see a white South Carolina or a black South Carolina. I saw South Carolina," he said. The election, he said, "is not about rich versus poor or young versus old, and it's not about black versus white. This election is about the past versus the future."
Americans wonder what will the future bring. Can the United States, as a country, change so significantly. After all, although voters are older and hopefully wiser, each was trained as a toddler. Perhaps, we must go back to school, to begin at the beginning. It may be that what we witness among adults could be quelled in the early years. Conventionally, in Elementary School, and on into Secondary Schools children were separated or tracked. In a desire to create a more balanced educational environment, the racial divide can be more apparent.


Beth C. Rubin, an assistant education professor at Rutgers University in New Brunswick, N.J., describes how a school system's efforts to end tracking-the practice of grouping students in separate classes by academic ability-inadvertently stigmatized minority students in one high school classroom. In that class, a teacher's careful efforts to balance student work groups by race, gender, and ability enraged an African-American student.

"You trying to get all the black kids away from each other, before we cause a nuclear holocaust!" the student exclaimed. Meanwhile, the white students in the class, most of whom were high-achieving, relegated the minority students in their groups to roles that gave them little opportunity to hone their academic skills, according to Ms. Rubin's account.

"I guess I'm asking teachers to think about race a little differently, and not so much about having to have kids equally distributed among groups," Ms. Rubin said in an interview. "And also," she added, "to think of group work as skill-building over the course of the year.
Americans are reminded each day, integration without conversation does little to create balance. People must not merely live together in neighborhoods, or work with one another in schools, or in offices. We must learn to be open, honest, and willing to work through our differences. What we do not understand will destroy us.
A word, a look, will be interpreted through our personal background and experience. If you are Black, a criticism might mean, "Get Back!" If white, the same statement might be construed as, "It will be all right." If we remain colormute and colorblind, if we never bother to learn who each of us is, we can be certain, change will not come. This is evident in numerous studies. Our expectations rule.


Balance is also key to the kind of instructional climate teachers should provide in racially diverse classrooms, [communities or campaigns] according to Ronald F. Ferguson, the director of Harvard's Achievement Gap Initiative . . .

Geoffrey L. Cohen, an associate professor of psychology at the University of Colorado-Boulder, recommends that, in offering students critical feedback, teachers convey the idea that the criticism reflects a high standard, and that they believe in the student's ability to reach that standard . . .

Mr. Cohen has found that such messages can be more motivating for minority students, who are often wary of the feedback they get from teachers, than when educators overpraise them or give the same feedback to all students.

"Being a member of a stereotyped group puts one in a sort of bubble in which one can't be certain whether the critical feedback comes from bias against their group or a teacher's motivation to help one improve," Mr. Cohen said in an interview. "In general, though, whites can enter a school situation thinking, 'Teachers here believe in me.'"
For many Black Americans, an educator is frequently another white person who works from a premise of fear or futility. Too often, a teacher seems pompous or pretentious. It is not uncommon for an African-American to feel patronized when in the presence of an Anglo authority figure. A comment meant to express care, can be heard as contrived.
Every individual, regardless of color, has a history. Experience teaches us more than a professional mentor might. It is hard to trust that a person might be colorblind, if that is even possible, if they are colormute.
As long as Americans choose to avoid the discussion of diversity, to deny differences, and to reject hat our distinctive appearances enhance our experience, then life will be as it is and was. Change cannot come. Admittedly, Anglos are [color] blind. Apparently, Caucasians, and even Blacks prefer to be [color] mute. This must end if we are to evolve.
When Americans, teachers, preachers, or Presidential hopefuls, do not empathetically approach the topic of intolerance then, as a society, we will continue to clash and crumble. We may wish to hide from what haunts us. However, there is a price to pay for racial discrimination and the income inequity we accept.
Economically and emotionally, bigotry is expensive. Americans can see the cost of dilapidated schools. Residents in this Northern region of the globe experience what occurs when students do not have the opportunity to soar. Employment possibilities are limited. Without a satisfactory job, homeownership is not feasible. Even apartment life is not cheap. In a culture that creates illiteracy, the streets may provide the only shelter.
A society that houses hordes of those with dark skin in slums does not truly serve us equally. Citizens of the United Sates might understand, when a person is poor, as too many Black people are, they cannot afford adequate Health Care. Hence, everyone, the affluent, and those who struggle but survive, contribute to the costs an ill and impoverished America creates.
In this country, in our local communities, during this political campaign, if Americans remain colorblind and colormute, nothing will change. The possibility that conditions will worsen is one we must acknowledge.
Barack Obama may be correct. Differences exist. However, they need not divide us. Conversations about colorblindness and colormuteness can make his dream, our shared hope, come true. Let us imagine that one day, this vision will be ours together. As one people, united, perchance in time Americans will say . . .


The choice . . . is not between regions, religions, or genders. It's not about rich versus poor; young versus old; and it is not about black versus white.

It's about the past versus the future.

It's about whether we settle for the same divisions, distractions, and drama . . . or whether we reach for . . . common sense, and innovation – a shared sacrifice and shared prosperity . . .

When I hear that we'll never overcome the racial divide . . . I think . . . Don't tell me we can't change.

Yes, we can change.

Yes, we can heal this nation.

Yes we can seize our future.
Anglo-Americans must no longer hold their children tightly when in the company of Black man or woman. Pinkish people cannot continue to caution their progeny, to tell them they must pretend to be colorblind, and authentically become colormute. If we are to ever heal, Caucasians in this country must mentor their offspring to believe, colors are beautiful. Americans need to see the tone of a person's skin, to speak of an individual's race, and the realities without criticism. If this country is going to change, if the United States expects to excel, then, we, the people must truly be, and act as equals.
Resources For Racism . . .