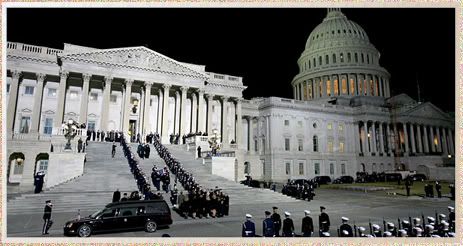 Please Pardon the prologue commercial.
To view the video Americans' Goodbye To Ford please click on the title.
Former President Gerald R. Ford was laid in memorial last evening. The absence of two prominent officials seemed odd, almost foreboding. Perhaps, something terrible was about to happen, or for President George W. Bush and former Secretary of Defense, Donald Rumsfeld it had. Days earlier, after the well-loved Gerald Ford passed the content of embargoed interviews was released. There was much controversy. Mister Ford did not approve of the war in Iraq. Given the same circumstances, Ford would not have gone to war; and he said so.

"I don't think I would have gone to war."

The ex-president, he said, "felt strongly" that the administration erred in justifying the war based on a threat of weapons of mass destruction.
The former President was also critical of a staff that was once his.
Ford was considered the "political father" to George W. Bush. Mister Bush appointed several former-Ford designates to his Cabinet. President Ford appointed current Vice President Dick Cheney as his chief of staff and former Defense Secretary Donald Rumsfeld as his defense secretary. He then, later in life requested that Donald Rumsfeld serve as a designated pallbearer upon his passing.
Prior to the release of the Bob Woodward, Gerald Ford tapes, those documenting the words of the once President during multiple interviews, all was well. There was no reason to believe that Gerald Ford struggled with the decisions of the current President. Nor did he seem to have quarrels with advisors that were considered friends of Ford. However, after the revelations heard on these recordings the world knew this was not true.

In the sessions, Ford fondly recalled his close working relationship with key Bush advisers Cheney and Rumsfeld while expressing concern about the policies they pursued in more recent years.

"He was an excellent chief of staff. First class," Ford said. "But I think Cheney has become much more pugnacious" as vice president. He said he agreed with former secretary of state Colin L. Powell's assertion that Cheney developed a "fever" about the threat of terrorism and Iraq. "I think that's probably true."

Describing his own preferred policy toward Saddam Hussein's Iraq, Ford said he would not have gone to war, based on the publicly available information at the time, and would have worked harder to find an alternative. "I don't think, if I had been president, on the basis of the facts as I saw them publicly," he said, "I don't think I would have ordered the Iraq war. I would have maximized our effort through sanctions, through restrictions, whatever, to find another answer."
Thus, there are reasons for concern. At the time of the ceremony, we could not know. We were only left to wonder. Were Rumsfeld and Bush acting as hurt children might. Were they formally snubbing the former President, the man that dared to criticize their policies, practices, and philosophical principles?
Donald Rumsfeld, among the chosen pallbearers for the Ford funeral, was nowhere to be found. The casket was carried and there was much talk; however, nothing was said specifically. Suppositions were not offered, though many thought aloud, 'where was the man that once served in the Ford White House?' Where was the fellow that professed, he remained a friend? Where might Rumsfeld be? Former President Ford recently stated Rumsfeld served him and his country well. Was Mister Rumsfeld unwilling to honor a man that publicly flattered him when others few did?
The nation understood the President was busy. Mr. Bush thought it vital, he needed to make plans, those he had not made prior to our invasion of Iraq. The President felt compelled; he must focus on the war in the Middle East. Bush did say that he would attend the more formal funeral. However, he could not be bothered by both occasions. For now, George W. is President and what occurs must fit into his personal schedule. Everyone would have to understand, the nation's security was at sake. One wonders; had it not been for the brutal actions of Bush, post September 11, 2001, would our borders be threatened. Nevertheless, we cannot go back. We must move "forward," or so our current President tells us.
Vice President Dick Cheney, another designate, was in attendance. Therefore, we could assume the Administration, as a group of neoconservatives was not meaning to snub the moderate Republican President. However, the possibility still exists. Might the absence of these individuals be intentional? Perchance they are retaliating for harsh assessments made by the former President.
It seems former Secretary Rumsfeld had a reason to forego the memorial service. He was physically unable to be in Washington, District of Colombia. Rumsfeld could not [would not?] lift the body. He was obviously not preparing for Ford to lie in repose.
Storm prevents Rumsfeld, a pallbearer, from attending service at Capitol
Former Defense Secretary Donald Rumsfeld, 74, who served as Ford's first chief of staff and later his defense secretary, had been designated by Ford before his death as an honorary pallbearer but was not able to make it to the Capitol ceremony.

Pentagon spokesman Eric Ruff said Rumsfeld couldn't get a flight out of New Mexico, where he was spending the holidays, because of a winter storm. Ruff said Rumsfeld was trying to return to Washington today.
Yet, we know Mister Bush is not. [We might ask what other dignitaries did not attend, even those already in Washington. How many of esteemed luminaries will do as Mister Bush does.] He will get there when he gets there. As in the past, when the country unites in a cause, George W. Bush remains in Crawford. After all, authoritatively, there are six days allocated for mourning.
One might say, the President did, in his mind, do his duty. He honored the man and the memory of the former President.

In his weekly radio address, President Bush again eulogized Ford as a "courageous leader, a true gentleman and a loving father and husband."

"Gerald Ford never lost the spirit that Americans grew to admire so much," Bush said.
The spirit might be defined as "Character Above All." Oh, how this nation, this world longs for a leader of character.
You may wish to read Quotes from first Gerald Ford memorial events. Associated Press. Mercury News. December 30, 2006
Gerald R. Ford, the passing of a man of character . . .