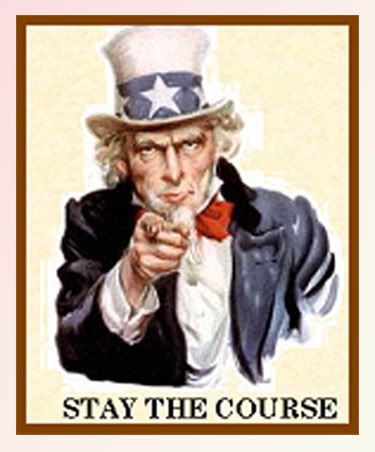 Since George W. Bush was selected, the comparison has been clear. George W. Bush
channels author, George Orwell.
Laws that deny citizens their right to privacy are titled, "The Patriot Act." A unilateral attack on Iraq, an attempt to "change the regime" is declared, "spreading democracy."
Just as Bush senior coined the phrase, "collateral damage" to define the loss of innocent lives during the previous Persian Gulf War, Baby Bush does the same. The two play with words. They each plot to gain strength and resources in the oil rich Middle East, and call their endeavors "compassionate."
While the litany of lexicons is ample and I might submit many for your consideration, I will focus only on the most recent, our change in tactics. You may recall the strategy is the same.

Bush Won't Change Iraq Strategy.
Associated Press. Military.com

President Bush conceded Friday that "right now it's tough" for American forces in Iraq, but the White House said he would not change U.S. strategy in the face of pre-election polls that show voters are upset.

With Republicans anxious about the potential loss of Congress – and with conditions seemingly deteriorating in Iraq – Bush addressed the question of whether he would alter his policies.

"We are constantly adjusting our tactics so that we achieve the objective, and right now it's tough, it's tough," Bush said in an Associated Press interview. . . . Despite calls for change, Bush said, "Our goal has not changed. Our goal is a country that can defend, sustain and govern itself, a country that which will serve as an ally in this war. Our tactics are adjusting."
Were it not so painful to experience, the Bush presidency would be my pleasure. After all, it provides ample humor to [the demeaning term often used to identify Democrats] an intellectual.
I invite you to enjoy the rhetoric, reflect, and realize, the past is the present. We live in 1984 on an Animal Farm. In 2006 this is the World According to George.
I ask you to delve more deeply into the universe. The Sandwichman at MaxSpeak offers a glorious assessment of the course, the discourse. Please enjoy Stay the (Dis)Course.
• Learning to love Big Brother George W. Bush channels George Orwell,Daniel Kurtzman. San Francisco Chronicle. Sunday, July 28, 2002
• Bush Won't Change Iraq Strategy. Associated Press. Military Advantage. Military.com October 21, 2006
• Animal Farm. George Orwell
• 1984 George Orwell